Reading Time:
3
minutes
Edinburgh University Students' Association's Student-Led Teaching Awards are back to recognise outstanding members of learning and support staff. After a challenging year for everyone, we're celebrating our worthy nominees by shouting about their successes across our digital platforms.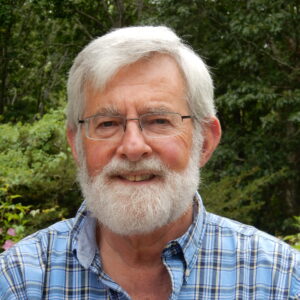 What is your full name? 
Anton Ziolkowski 
What is your job title? 
Professor of Petroleum Geoscience 
What school or service do you work in? 
School of GeoSciences 
Please tell us a little bit about yourself and your role. 
I have held this position since May 1992.  Before that I was Professor of Applied Geophysics at Delft University of Technology, the Netherlands, for ten years.  I met my American wife, Kate Crowley, at MIT, where I was a post-doc.  
Kate and I have three children, all born in Delft and all of whom went to the University of Edinburgh. Before my appointment in Delft, I worked as Headquarters Geophysicist in the National Coal Board, exploring for coal (after the price of oil increased from $3 to $12/bbl) and as a consultant to the British National Oil Corpration. My teaching includes material I learnt outside academia.  In 2004, my colleague, Bruce Hobbs, our PhD student, David Wright, and I formed a company, MTEM Limited, to perform onshore and offshore electromagnetic exploration for hydrocarbons. The company was spun out of the University, with Bruce and me as directors. MTEM was successful, and was bought in 2007 by the Norwegian seismic contracting company PGS. The University's share of the sale was $17 million. I worked for PGS until 2010, when I returned to my chair. I am now adapting the MTEM method to look for groundwater, as a construction hazard and as a source of geothermal energy. 
What does it mean to you to have been nominated for a Teaching Award this year? 
To have been nominated for a Teaching Award is unbelievable and totally unexpected. It is a tremendous honour, privilege and responsibility to be paid to teach. It is the hardest work I know, and trying to find out which bits are easy for students to understand and which bits are hard is perhaps the most difficult part. To be recognized by the students for the effort is an incredible reward and beats every award for academic scholarship.  
 
What's your favourite part of your role and working with students? 
I love it when students ask questions. I especially like it when students interrupt and ask me to explain something I just said. It is not always easy to put things clearly, or maybe I didn't speak distinctly enough. Or maybe the idea is strange. But the important thing is not to let the moment go. It brings the class alive. 
How have you adapted your approach to teaching and supporting students under the Hybrid Model this year? 
I struggled with the mechanics of Blackboard Collaborate Ultra in the beginning. The students were very helpful. I have tried to use as many of the live lecture slots and tutorial slots as possible. Nearly all the students turned up every time. I used the same written lecture notes as normal, which were uploaded at the beginning of the course. I shared my PowerPoint slides with the students in the lectures.  I talked to the slides and answered questions as in a normal lecture. Often there were minor mistakes that had to be fixed.  After the lecture/tutorial, I fixed the PowerPoint slides and uploaded all the PowerPoint slides up to that point as a single PDF. 
What's been the biggest challenge in your role this year? 
Students want to be presented with material that tests their understanding of the material. Most weeks I tried to set questions that were focused and challenging. The following week we would go through the answers with PowerPoint slides. I would then upload the answers as a PDF. The biggest challenge was to think of interesting, challenging questions.   
What would you say to the student(s) who nominated you, or students who are considering submitting a nomination for a staff member who has had an impact on them? 
Thank you so much. You cannot imagine how great it is to be thanked for teaching. We know it is our duty to teach, but we don't always know how well, or badly, we are doing. We get feedback from the staff-student liaison committee, which is very important. It tells us the good points and the bad points. Sometimes there are only bad points. We try to fix the bad points. Students are very quick to notice when a lecturer is disorganized or not completely on top of the material. We know we must be focused, relevant and clear. You are the customers. It is our duty to provide good service. Recognition for good service is wonderful and I am very grateful to you and to the Edinburgh University Students' Association for instituting this process. 
To find out more about the Teaching Awards and browse nomination categories, please visit the Students' Association's website.