Reading Time:
2
minutes
Edinburgh University Students' Association's Student-Led Teaching Awards are back to recognise outstanding members of learning and support staff. After a challenging year for everyone, we're celebrating our worthy nominees by shouting about their successes across our digital platforms.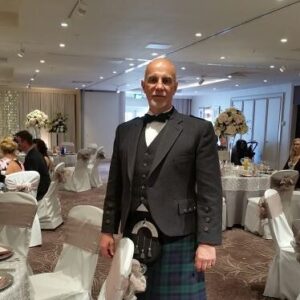 What is your full name? 
Sandy McComish 
What is your job title? 
Mental Health Mentor 
What school or service do you work in? 
Student Disability Services 
Please tell us a little bit about yourself and your role. 
My role is a complex one involving a skill set utilising what many refer to as 'soft skills', e.g. those of actively listening, acknowledging, summarising and clarify student concerns and often sign posting students to other areas of support and guiding them through often daunting issues  – the aims being to build rapport, to engender trust and confidence and safety in my relationship with students  – essentially  to assist students in formulating a plan, to constantly review that plan and to provide support and bolster motivation striving to  ensure success in all aspects of their time at the University of Edinburgh. 
What does it mean to you to have been nominated for a Teaching Award this year? 
I have a long-standing relationship with University of Edinburgh – having been a student in the late 1970s-early 1980s. Between then and now I have been gainfully employed in Health and Social Care – in one form or another – for in excess of 30 years. Since March 2020 I have been employed as a Mental Health Mentor- working alongside colleagues in the SDS and even more importantly with students who have sought support from the service. It has been a huge pleasure to work in partnership with students and colleagues – striving at all times to provide the best service and support possible. I am humbled and yet extremely pleased to by this nomination 
What's your favourite part of your role and working with students? 
Simply being alongside students. 
How have you adapted your approach to teaching and supporting students under the Hybrid Model this year? 
I have only been part of University of Edinburgh community since the pandemic – starting on 02/03/2020. Working remotely via Teams and/or Zoom has been very interesting. 
What's been the biggest challenge in your role this year? 
Striving to provide students the nature and degree of support they feel they need – in very challenging times. 
What would you say to the student(s) who nominated you, or students who are considering submitting a nomination for a staff member who has had an impact on them? 
Thank you – this is a humbling – and very much appreciated gesture. 
To find out more about the Teaching Awards and browse nomination categories, please visit the Students' Association's website.