Processing our new situation
Processing our new situation
Hello ITIL Tattlers!
This week finds us bringing you ITIL Tattle in unprecedented times and it's now more than ever that process and routine can help people adapt to the strange world we find ourselves in. Most of us are trying to adapt to ways of working from home, whether that be working out a timetable, or trying to keep your cat from marching across your keyboard demanding attention!
While working from home it's important that we consider our routines and processes, not only for ourselves but also for the services we need to continue to deliver to our stakeholders.
Over the last 2 weeks the leaders at the University of Edinburgh have dusted off our continuity processes and developed new processes to help continue the delivery of vital Academic and Research support. We have Operational Planning teams both at University and Information Services level and we're using some ITIL and project management approaches to ensure we complete all the tasks required to keep the University ticking over as we all work from home.
I've taken a continuity advisor role and am working with the Information Services leadership group to ensure we produce a blueprint for large scale business continuity that we will be able to adopt, adapt and progress iteratively with feedback in the future. The ITIL4 Guiding Principles are in our minds at all times and we look at ways to use them to add value to the University.
We're looking at ways to optimise the use of our processes and looking at how James, Matt and Robert our Subject Matter Experts can support colleagues in using tools like UniDesk our Service Management tool. We hope to start working next week with individual teams to offer process solutions where standard process isn't currently working.
At this point in time we've kept our standard Release CAB running on a weekly basis and added an extra level of scrutiny that ensures we're considering the impact of remote working and restricted access to buildings. We're regularly reviewing the change landscape and will continue to ensure that we adapt our processes to suit as the situation unfolds in the coming weeks and months. Please don't forget to engage with Matt and the GoCAB if you are releasing any changes or introducing new services in the coming weeks.
Higher Education is a very collaborative sector and it's been amazing to see how people have come together to share ideas around the support challenges we currently have. The ucisa Support Services Group and the Scottish Service Desk Managers forum have both had group meetings where we've been able to share our successes and challenges around delivering services remotely. Working from home can be an isolating experience, but these meetings have helped keep the camaraderie that makes Higher Education such a special sector. It's also let me see ways in which we can leverage relationships with groups like ucisa to build shared resources and processes to help us in the future. The co-creation of value is what ITIL4 is all about and we can make a lot of improvements taking a collaborative approach.
Its easy to take your eye off standard process when you're in a highly reactive situation as we all are now, but it's vital to make sure you keep everything as close as possible to the standard process definitions you've set out as an organisation. In chatting with colleagues I can see that our decision to keep process at the heart of what we do has paid off. We have a greater level of control and this means our services remain stable and understood, something which our first line teams greatly appreciate. They're not having to deal with so many surprises as other Universities and this is no doubt contributing to the high level of morale that they're reporting.
As we move through the coming weeks we hope to start offering some online webinars, masterclasses and awareness sessions to our University of Edinburgh colleagues, helping to further promote the importance of processes especially at a time when there is so much uncertainty elsewhere. For now, we ask you to keep process at the front of your thoughts and to get in touch with the ITIL Team if we can help in any way. You can email us at ITIL.Team@ed.ac.uk
All in all it's been a busy time so far, but we're meeting the challenges presented to us and we hope to continue to do so until it's time to return to normal working. For now we hope your life with be without Incident or Problem, that you'll adapt to the Change and that we'll have Transitioned back to Business as Usual before too long!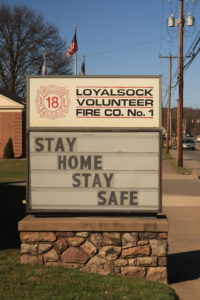 (slava / CC BY (https://creativecommons.org/licenses/by/2.0))
(Brinacor / CC BY-SA (https://creativecommons.org/licenses/by-sa/4.0))