Autumn Reflections
Hello, remember us? ITIL Tattle? We've been gone for a while and during that time Autumn has well and truly arrived. We're now all adjusted to the new world and ways of working, our students are back studying and we've achieved a lot of great things since James last blogged back in September.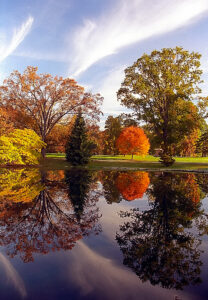 In his last blog post James was speculating about what we might see as we work through the most unusual start of year any of us have experienced, was he right? You'll need to stay tuned to find out as he spills the beans in his next post.
James, Robert, Matt and I haven't just been dealing with start of year activities though, we've been working very hard on a whole range of different tasks and events.
They say the best way to test your processes is to use them, well our Major Incident Process has definitely been getting a work out this last wee while. It's given us the chance to introduce Kepner Tregoe to more people and to improve our communications, but more importantly we've learned ways to help our Service owners get the show back on the road in the fastest and safest way possible.
Alongside this I've been representing ISG and contributing to the wider Business Continuity effort. This has been another opportunity to learn more about how ISG can support the wider University and has allowed us to develop better local continuity plans including the  production of scenario playbooks which will be valuable as we move in and out of lockdown phases during the next months of the pandemic.
September also brings the busiest time of year for Matt our Change Manager. He managed Special CAB – our board that reviews all changes around start of year to ensure minimal disruption to student experience. This year the Special CAB reviewed 27 different changes and we're really starting to see a good understanding of the importance of Change Management across ISG.
I think it would be hard for anyone to have missed the arrival of EdHelp our new student support service based in the Main and Murray Libraries.
The ITIL Team have been very busy supporting our EdHelp colleagues. This included offering service management advice, call management training and business reporting, but our greatest achievement has been around the introduction of Knowledge Centred Service and them being the first team to use the UniDesk Knowledge item feature to help deliver their support solutions. this is a very exciting development for us as it allows us to move forward to integrate support strategies for things like swarming (which, as previously promised we hope to have a guest article about soon!)
As you can see from my task list, we've done a lot this last wee while, but what's next? Well there's still a lot to keep us busy over the coming months. People and Money is on the horizon and we're helping advise on best practice for their user facing services.
Matt is working on a new Forward Schedule of Change Calendar to support release management. James is working on Service Catalogue improvements, I've recently taken over as chair of the Priority Service group and will be reviewing our list of Top Priority services including the introduction of new, seasonal prioritisation. And Robert will be working on our UniDesk upgrade along with joining James and some colleagues from ISG and CAHSS on an upcoming ITIL4 Managing Professional Transition course (Congratulations to Matt for achieving this qualification last month!)
There will be no let up in the coming weeks and months as we adapt to the hybrid landscape, nothing is certain other than the fact that we may be called the "ITIL Team" but we will be doing a whole lot more to help support you and improve our services collaboratively. Oh, and we WILL try to remember to blog about our various endeavours. It's good to be back!
(By IIP Photo Archive - https://www.flickr.com/photos/iip-photo-archive/31513902968/, CC BY 2.0, https://commons.wikimedia.org/w/index.php?curid=79841625)