Why Knowledge should be at the centre of every good service.
Why Knowledge should be at the centre of every good service.
Two weeks ago Robert asked us to consider if our Knowledge Management practice is best practice and to consider how we can  move our current Knowledge Management practice closer to best practice.
As a reminder, in ITIL4
Knowledge management aims to ensure that stakeholders get the right information, in the proper format, at the right level, and at the correct time, according to their access level and other relevant policies.
There are many ways of approaching Knowledge Management and recently the ITIL team have chatted a lot about Knowledge Centred Service  and how it could be the answer to our problems.
Knowledge Centred Service(Sometimes known as Knowledge Centred Support or KCS) is a methodology for managing knowledge that could ensure our knowledge is delivered at the right time, is pitched at the right level, contains the right information and is in the right format.
Not only does Knowledge Centred Service ensure these core values are met, but it also (if done correctly) can bring several other benefits including a reduction in Business operating costs, better staff satisfaction, less time spent on training and perhaps most importantly of all, faster customer response times and greater customer satisfaction as it focuses on Shift Left strategies.
Knowledge Centred Service is not part of the ITIL framework, but it compliments and works alongside ITIL to provide a comprehensive Knowledge Management methodology that helps organisations mature their ITIL frameworks and overall service delivery.
But what is Knowledge Centred Service?
Knowledge Centred Service (KCS) focuses on knowledge as a key asset to the organisation and the integration of knowledgebases as part of the workflows.
There are 4 main goals of KCS
The creation of knowledge items as an outcome of solving problems

The evolution of content driven by demand and usage

The creation of a knowledgebase collecting all of the organisation's collective experience to date (This includes technical problem solving knowledge as well as user facing knowledge)

Encouragement and reward for learning, collaboration, sharing and continual improvement.
Are we already doing any Knowledge Centred Service activity?
In short, yes!
The University of Edinburgh is a massive organisation with several Support Groups and Colleges working together.
You'll know that if you've ever used the University website to search for information, you'll sometimes be presented with different articles written by different schools or units across the University. Some of these articles will be incorrect, or out of date and it can be hard to decide which page has the "true" answer.
Using a knowledgebase that collects the organisation's collective experience would eliminate this duplication, there would be a single source of "truth" and there would be a regular timetable for reviewing and updating this information.
Evolution of content driven by demand and usage is something we already do in some areas of the University.
If you've ever used the IS Helpline "Get Support" page you'll have been presented with a list of subjects to choose from: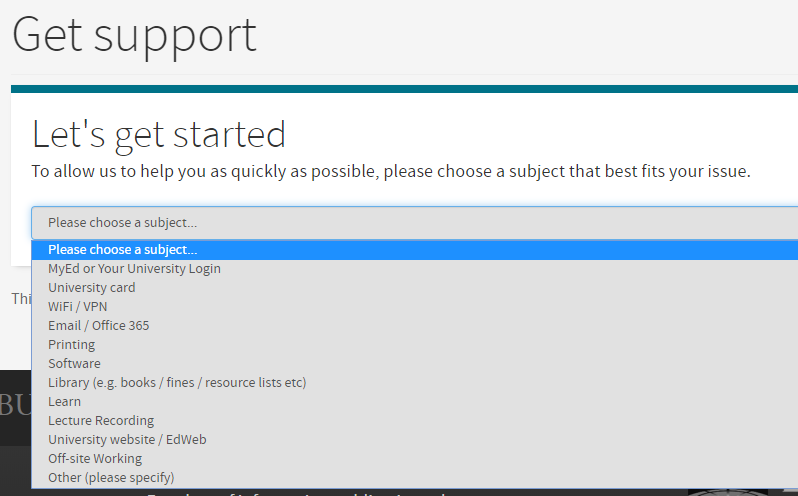 This page is changed regularly based on a review of the call types coming in to IS and Finance Helplines. The list of subjects changes seasonally with the University year and this allows Information Services to highlight self help which may give the user a faster solution or allow them to solve their issue themselves.
There's another example of content being driven by demand and usage in our Self Service Portal. Logging in to UniDesk Self Service Portal and requesting help will present you not only with a form to log your support request, but also with the most used items in the UniDesk Knowledgebase. This list dynamically changes based on the articles viewed by Self Service portal users, thus promoting content driven by demand and usage.
Perhaps the best and most topical example of  Knowledge Centred Support , the University of Edinburgh COVID-19 FAQs have started to form using (whether knowingly or not)  KCS methodology.
These pages are designed to capture all of the University's collective experience in relation to COVID-19 to date, they are being created as an outcome of solving problems and are being changed, expanded on and withdrawn based on demand and usage.

The ITIL Team would love to see more collaborative Knowledge management strategies like this in the future and we hope that Knowledge will be valued as a critical aspect of all new projects and services in the University of Edinburgh. We see it as our job to work with people to advise and promote the strategies and skills required to deliver quality knowledge and we hope over time we will see a collaborative approach to quality knowledge management in the same vein as our COVID-19 resource.
We're interested in looking at any further opportunities to move towards a Knowledge Centred Service methodology which will hopefully bring satisfaction to not only our users, but also to our staff who are working hard to deliver quality services and knowledge. At this stage we can see the potential that KCS brings, however time will tell as to whether its the right methodology for the University of Edinburgh.
Please do contact us if you'd like to discuss any aspect of Knowledge Management, Knowledge Centred Service and how you can use these methodologies to support your outcomes. ITIL.Team@ed.ac.uk
We'll talk some more about Knowledge Management in future blog posts but for now I'll leave you with a quote from an American President (No, not THAT one!) which sums up our thoughts on Knowledge.
An investment in knowledge always pays the best interest.
Benjamin Franklin