Gaining a new routine
When Employ.ed internships were advertised in February I jumped at the opportunity.
I was determined to stay in Edinburgh for the summer because as an international student who is about to enter her fourth year, I saw this summer as potentially one of my last within the city. Not only that, but last year I had spent my summer waitressing in potentially one of the busiest cafés in London, and by busy, I mean like hour queues on the weekend that would form around the corner kind of busy. So, a big part of me craved a quieter and more stable summer (however, I have not been in Edinburgh for the Fringe so that statement may not be able to hold up for much longer).
Working for Information Services was especially appealing, not only because I have always wanted to make an impact on the university during my time here, but my position required helping audit and create new training materials for Learn, a virtual learning environment that I knew quite well and through speaking with my friends, I definitely knew there was work to be done in helping it become easier for students.
Overall, I saw this summer as one where I could finally develop my professional skills and enter a real working environment. These first couple of days within the office, however, have showed me that thus far the job has done spectacularly well in really helping me become a more developed and organised person.
…I think what the first week of this internship taught me, was that my chronic lateness did not automatically get cured by having a seven-hour work day.
As someone who tends to have a large affiliation for doing university work at one in the morning, waking up at noon whenever possible, and arriving at least thirty minutes late to any social gathering, the 9 to 5 office life has actually been a great way to finally develop some sort of routine. But I think what the first week of this internship taught me, was that my chronic lateness did not automatically get cured by having a seven-hour work day.
I think I had to realise how little I can get done in the mornings before work. I had envisioned waking up at 7am every morning, and magically having the ability to shower, make breakfast, drink coffee, make my lunch, maybe do some morning podcast listening, take my time walking to the office, and feel energised to start the day. Unfortunately, so far, I have found myself snoozing the alarm until 8:15 and having barely enough time to change and eat breakfast before power-walking to work.
However, not all hope is lost. This week has taught me the beauty of bringing instant coffee to work and the newfound skill of being able to make a twenty-four-minute walk an eighteen-minute walk in the mornings when I rush. Most importantly, the realisation that starting at 9 does not transform me into a morning person has given me a great appreciation for the evenings and nights before work.
It took me a few days to realise the power of meal-prepping the night before, and not only that but I have a grown a great affiliation for showering in the evenings and listening to podcasts on my walk to Argyle House, even if I am concentrated on trying to get to the office as fast as I can.
So, while I still am always in a bit of a disorganised rush in the morning, I can still say I have managed to be on time to my 9am starts and have a successful and productive morning at work. My chronic lateness is not cured, but I think I have found a new way to live with it and make it work within my new schedule.
So far, I have definitely had the summer I imagined and hoped for way back in February when I applied. I have spent a week within a city I love (and the sun has come out a couple of time which has been exciting!), I work within a very calm and amazing work environment that has been a great and welcome change, and I have developed a routine, not the one I had imagined, but one that really does work for me. I think I kind of have a professional work life now, maybe?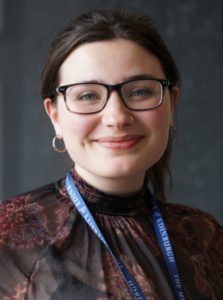 Amanda Scully
Learn VLE Intern
Share