Reading Time:
3
minutes
Edinburgh University Students' Association's Student-Led Teaching Awards are back to recognise outstanding members of learning and support staff. After a challenging year for everyone, we're celebrating our worthy nominees by shouting about their successes across our digital platforms.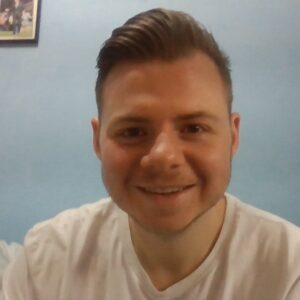 What is your full name? 
Ross Stewart 
What is your job title? 
Tutor 
What school or service do you work in? 
PPLS – Psychology 
Please tell us a little bit about yourself and your role. 
I began studying for my PhD at the university in 2018 as a part-time student whilst working full time in a sales role. Specifically, I worked for the largest pump rental company in the country for 18 months, and then moved into a software sales role. Unfortunately, due to the Covid-19 crisis I was made redundant, although this gave me the opportunity to focus more on my studies and gain experience in tutoring, given that I aim to go into lecturing after completing my degree.
In my role at the University I have tutored two groups in the Psychology 2B course. My primary responsibility is to organise and run bi-weekly tutorials where we consolidate the knowledge from the lectures, as well as build vital research skills to prepare the students for the critical years in their undergraduate degrees. On top of this, I am responsible for the marking of coursework, and if required speaking with students who are struggling with particular aspects of the course. 
What does it mean to you to have been nominated for a Teaching Award this year? 
To say I was delighted, yet stunned, to be nominated would be a massive understatement! Given this is my first year of teaching at the University, it reassures me that my approaches and explanations are suitable and understandable for students. It also felt overwhelming to know that, in what has been an undoubtedly tough time for students, my tutorials were able to engage students and give a somewhat normal university experience. Finally, it brings me incredible pride to have been nominated. Not just in myself, but in my students also. After all, whilst a tutor can put together a tutorial, it relies on the participation and effort of students to be a true success. 
What's your favourite part of your role and working with students? 
The favourite part of my role is, without a shadow of a doubt, watching the students progress and develop. To explain a concept or theory and then see students demonstrate an understanding is incredibly rewarding, knowing that I have played some contributory factor in this. Furthermore, to see the students overcome the difficulties posed by the circumstances this year has been nothing short of inspiration and will definitely be something that remains with me. 
How have you adapted your approach to teaching and supporting students under the Hybrid Model this year? 
For me, the best approach was to ensure that all participated in the tutorial, and to give more feedback and encouragement than usual. By directing the questions at individuals, rather than relying on an answer from the usual individuals, as many students as possible interacted with my sessions, and I found that virtual breakout rooms allowed for some form of enjoyment and interaction between students in a more informal setting too. Finally, I simply asked the students themselves for feedback on what worked in sessions, and what didn't. This allowed me to tailor my sessions to best fit the need of my students in general. 
What's been the biggest challenge in your role this year? 
The biggest challenge for me this year has been trying to build relationships with students with very limited interaction. Whereby it is easy to gauge body language etc in a live face to face session, this is obviously much more difficult in a virtual environment. As a student I always found that the best tutors were the ones I could relate to through having small conversations with, and this was made much more difficult in the current circumstances. 
What would you say to the student(s) who nominated you, or students who are considering submitting a nomination for a staff member who has had an impact on them? 
To the student that nominated me, I would just say the biggest thank you! Whilst it has clearly been a difficult year for students, it has also been challenging for staff, and for me this nomination felt like such an incredible recognition. It reassured me that the challenges faced had been met, and that my efforts had been appreciated. 
To students considering nominating a member of staff, I would emplore them to go ahead and do it. Such a small act can honestly be the most uplifting, and it is truly appreciated by all staff. 
To find out more about the Teaching Awards and browse nomination categories, please visit the Students' Association's website.