Reading Time:
3
minutes
Edinburgh University Students' Association's Student-Led Teaching Awards are back to recognise outstanding members of learning and support staff. After a challenging year for everyone, we're celebrating our worthy nominees by shouting about their successes across our digital platforms.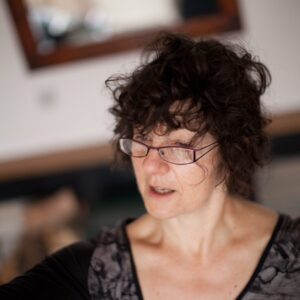 What is your full name? 
Federica Pedriali 
What is your job title? 
Professor of Italian; Head of Italian 
What school or service do you work in? 
Languages Literatures and Cultures 
Please tell us a little bit about yourself and your role. 
I am Professor of Italian and Head of Italian in the Department of European Languages and Cultures. I have published on the contemporary Italian canon and its margins, with applications from Continental Philosophy, in particular French Theory, and more recently Biopolitics, Ecocriticism and Decolonial Studies. My approach to academic work combines a marked theoretical drive and a highly collaborative ethos, with strong commitment to my communities both within and outside the University. Through the Edinburgh Gadda Projects, these now reach deep into the larger community, especially as a result of the close links I have established with both the creative industries and the wider educational sector since founding the Edinburgh Gadda Prize in 2010. 
What does it mean to you to have been nominated for a Teaching Award this year? 
I am delighted to have received several EUSA Teaching Awards nominations for my newest courses, Biopower and Italy by Design. With these courses I wanted to stretch pedagogical conventions through the delivery of practice-based courses with non practice-based contents. 
I had of course not been planning for the further challenges of the pandemic, but as soon as the online scenario presented itself, I decided to explore it proactively, redesigning my courses to embrace the opportunities that the online offered for teaching as co-production, also inviting guest speakers from all over the world to meet and work with my students. 
I am particularly proud of the Maxxi Exhibition of our shoes on Italy by Design, and I had to laugh out loud when on the same course we boarded an animated skit taking us to Venice to discuss the environmental future of the city. But I was above all hugely emotional when in the last lab the students performed a loved letter to the course. The text was not just beautiful. They had pulled it together from the discussion boards of the entire semester – chapeau! 
Here is the link to the video recording of that last session. The love letter starts 52:31 to the end of the video – 9 minutes in all. This is the video clip I would like to go the nominations I have received. What does it mean to me to have been nominated for a Teaching Award this year? The world!   
What's your favourite part of your role and working with students? 
My top favourite is facilitating their creativity. I love to provoke to think fluidly and collaboratively about our goals in learning. My aim is to decentre the class and play with very many participatory modes of delivery. Time with my students is learning time for me too, and it does make my day. 
How have you adapted your approach to teaching and supporting students under the Hybrid Model this year? 
Here are some of the things I did: I created multiple points of contacts in the week to maintain the sense of a robust timetable; I gave each week the shape of a stretch, with themes, goals, and guest events in sight to keep us going; I invited students to take on co-production roles and motivated the ALGs to play for teamwork; I challenged everybody's expectations re contents providing the latest in readings and creating opportunities to meet the top scholars in the field.   
What's been the biggest challenge in your role this year? 
Keep my energy going while working flat out. This year has been particularly challenging in my section, as in addition to the switch to hybrid-online in a pandemic, we had to handle the departure of key colleagues, had larger than ever subhonours years, and faced rapidly diminishing resources.    
What would you say to the student(s) who nominated you, or students who are considering submitting a nomination for a staff member who has had an impact on them? 
Thank you! You have no idea how much it means to us especially this year. 
To find out more about the Teaching Awards and browse nomination categories, please visit the Students' Association's website.