Reading Time:
3
minutes
Edinburgh University Students' Association's Student-Led Teaching Awards are back to recognise outstanding members of learning and support staff. After a challenging year for everyone, we're celebrating our worthy nominees by shouting about their successes across our digital platforms.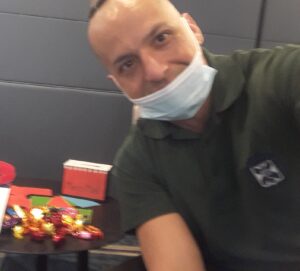 What is your full name?
Marco Rojas Cantero 
What is your job title? 
CSA cleaning assistance 
What school or service do you work in? 
Pentland House Accomodation 
Please tell us a little bit about yourself and your role. 
I'm Marco, originally from Costa Rica. I've been living in Edinburgh since January 2018. I'm a people's person, I've been working in customer facing roles my whole career. Before the pandemic I worked for Edinburgh First, mostly events. I adapted fast into my new role in accommodation department. I like to go beyond my duties and help students during these challenging times. I understand how they must feel living far away from their families and being under the pressure of their studies. Therefore I'm trying to be as helpful as I can. 
What does it mean to you to have been nominated for a Teaching Award this year? 
When I received the email that I was nominated for Teaching Awards, I felt honoured. I recently had a birthday; students made a small paper box and wrote me many birthday messages. One of them was a handmade card with "Marco, Living the Dream". That's the sentence I use daily each time I'm asked how I am. Being nominated for the award is an official recognition of my work. I feel great when my hard work is being recognised and appreciated. Thank you and Pura Vida (Pure Life) like we say in Costa Rica. 
What's your favourite part of your role and working with students? 
I had great support from my teacher Mrs. Anderson when I was a student. It helped me to grow into who I am now. I now want to do the same. I am trying to make residents' experiences better, especially during these challenging times. The appreciation of my hard work and positive response from the residents is what I like about my role the most. 
How have you adapted your approach to teaching and supporting students under the Hybrid Model this year? 
This year students are mainly studying from their rooms/study area at the accommodation. Therefore I always go that extra mile to ensure that the place is safe and clean, but more importantly I try to listen and communicate with students when they feel homesick, sad or just simply want to have a chat. On few occasions we had issues with internet connection, as it's crucial for students to be able to do coursework, I put an extra effort to resolve it promptly. 
What's been the biggest challenge in your role this year? 
It has been a challenging year forcing most people to adapt to new realities. What makes me hopeful is seeing that people are capable not only of adapting, but thriving on change. For me personally the hardest challenge was to enforce new restrictions and rules especially during Christmas and other festive periods. The residents' respect towards me made it easier. They were mostly respectful and followed the rules, always instantly. 
What would you say to the student(s) who nominated you, or students who are considering submitting a nomination for a staff member who has had an impact on them? 
Thank you from the bottom of my heart. I can see that my hard work really paid off. It motivates me keep moving forward. Gracias, your Marco. 
To find out more about the Teaching Awards and browse nomination categories, please visit the Students' Association's website.