Reading Time:
2
minutes
Edinburgh University Students' Association's Student-Led Teaching Awards are back to recognise outstanding members of learning and support staff. After a challenging year for everyone, we're celebrating our worthy nominees by shouting about their successes across our digital platforms.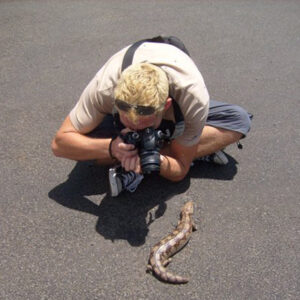 What is your full name? 
Brian Mather 
What is your job title? 
Senior eLearning Developer 
What school or service do you work in? 
Digital Education Unit, R(D)SVS 
Please tell us a little bit about yourself and your role. 
I've been an eLearning Developer at the vet school since 2013. There is a willingness and enthusiasm to try new things for the benefit of our students. This has provided me with many opportunities to develop creative solutions for a range of situations within a diverse subject area. In this instance there was a need to reimagine a heavily practical, residential course and deliver it digitally. 
What does it mean to you to have been nominated for a Teaching Award this year? 
This is a very special course which is usually delivered in a tiger reserve in India. The students were very disappointed that COVID prevented this course from running as planned. I am delighted to see that the efforts we went to have paid off and our students could enjoy our interactive tools and digital simulations. It was a huge task and I am proud of our achievements. 
What's your favourite part of your role and working with students? 
I like to push the boundaries of our teaching medium… and to create a resources of a quality I can be proud to put my name on. Our students are discerning customers and can see when we put in the effort. 
How have you adapted your approach to teaching and supporting students under the Hybrid Model this year? 
My main focus is on delivering content for online students… the efforts made for them before the pandemic have paid dividends. Many of the practices we had in place for online have now been reworked for on campus/hybrid teaching. I hope many of the best practices can remain in place once the pandemic has passed. 
What's been the biggest challenge in your role this year? 
The services of my department (the Digital Education Unit) have never been under more demand. There has been a constant, almost tidal, wave of challenges and requests for support. It's exhausting but we've done everything we can to support our colleagues who are facing new challenges and hurdles all the way.  Without the feeling of being 'in this together' we would have struggled all the more. 
What would you say to the student(s) who nominated you, or students who are considering submitting a nomination for a staff member who has had an impact on them? 
I would like to thank them for acknowledging that despite all that's happening, we are still trying to provide the best for them. There are many people behind the scenes building these courses and keeping them ticking over and they don't often take the limelight. A 'thank you' goes a long way. 
To find out more about the Teaching Awards and browse nomination categories, please visit the Students' Association's website.