Reading Time:
2
minutes
Edinburgh University Students' Association's Student-Led Teaching Awards are back to recognise outstanding members of learning and support staff. After a challenging year for everyone, we're celebrating our worthy nominees by shouting about their successes across our digital platforms.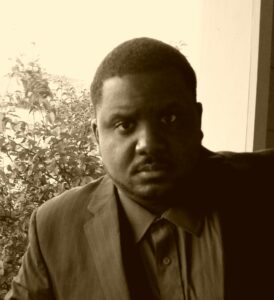 What is your full name? 
Tommy Curry 
What is your job title? 
Professor of Philosophy, Personal Chair in Africana Philosophy and Black Male Studies 
What school or service do you work in? 
PPLS 
Please tell us a little bit about yourself and your role. 
I am fairly new to the University of Edinburgh. I come from the United States where I was a professor of philosophy in Texas for 9 years. My research and public intellectualism has primarily been dedicated to Black intellectual history and theoretical analyses of racism. Much of my work focuses on the role that racism plays in the dehumanization and caricaturing of racially oppressed peoples. At the University of Edinburgh, I am responsible for building a research specialization and network around the issues of anti-colonialism, Critical Race, Theory, and Black Male Studies. 
What does it mean to you to have been nominated for a Teaching Award this year? 
This is a tremendous honor. To be one of the few Black professors in Scotland teaching Black philosophy and Black Male Studies means there will be both attention and scrutiny to these areas. Being nominated for the Teaching Award for my courses in decolonization and Black Male Studies means that my students are genuinely learning and considering that the knowledge they have inherited from elite universities and their culture have unjustifiably focused on European interest rather than the consequences Europe has had on Black humanity. Being nominated for a Teaching Award is a small indication that hope might not be lost on the minds of young students who aim to not repeat the tragedies of our time in theirs. 
What's your favourite part of your role and working with students? 
The energy and excitement of blowing the minds of young people and watching them reconstruct the world before my very eyes. 
How have you adapted your approach to teaching and supporting students under the Hybrid Model this year? 
I treat every tutorial as an in-person lecture. We debate and argue about the text. We probe their everyday experiences and challenge ourselves to think differently about academic theory and its relationship to our contemporary moment. 
What's been the biggest challenge in your role this year? 
Perhaps the impact that Covid-19 has had on the lives and schedules of my students. 
What would you say to the student(s) who nominated you, or students who are considering submitting a nomination for a staff member who has had an impact on them? 
There is a tremendous honor in being recognized by young people for your life's work. Remember that the words a professor convey to you are not merely academic, but part of a worldview cultivated over the years and demonstrated through teaching. 
To find out more about the Teaching Awards and browse nomination categories, please visit the Students' Association's website.