Reading Time:
2
minutes
Edinburgh University Students' Association's Student-Led Teaching Awards are back to recognise outstanding members of learning and support staff. After a challenging year for everyone, we're celebrating our worthy nominees by shouting about their successes across our digital platforms.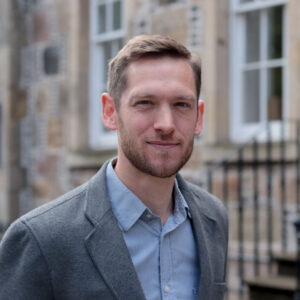 What is your full name? 
Mike Carr 
What is your job title? 
Lecturer in Late Medieval History 
What school or service do you work in? 
History, Classics and Archaeology 
Please tell us a little bit about yourself and your role. 
I started at Edinburgh as a Teaching Fellow in 2014. I then received a Leverhulme Early Career Fellowship at the University from 2016-19. In 2017 I got my current permanent lecturer post, but I didn't start this until my Leverhulme fellowship finished in 2019. So technically I have been a lecturer since 2019, although I have been in the Department for longer than that. At the moment I teach many courses on medieval history and I am also the director of the MSc programme in Medieval History. I am also the acting director of honours teaching for this semester. 
What does it mean to you to have been nominated for a Teaching Award this year? 
This nomination was a really welcome surprise in such a bleak year. Teaching last semester was very challenging for students and staff and it is really nice to receive some recognition from the students. I also feel that online teaching, by its very nature, is quite impersonal and I've worried that the students haven't been able to get to know me in the same way as they would in normal circumstances, but this nomination shows that that some have. I really appreciate this very much! 
What's your favourite part of your role and working with students? 
Teaching my fourth-year Special Subject class. 
How have you adapted your approach to teaching and supporting students under the Hybrid Model this year? 
To be honest, I've tried to keep things as simple as possible and mimic as much of the on-campus teaching experience as possible. Most of what I teach is really not that different to if it was on-campus, except the classes are via Collaborate. 
What's been the biggest challenge in your role this year? 
Not getting to meet students face to face. 
What would you say to the student(s) who nominated you, or students who are considering submitting a nomination for a staff member who has had an impact on them? 
Thank you so much. These nominations really mean a great deal to staff so I would encourage you to nominate others! 
To find out more about the Teaching Awards and browse nomination categories, please visit the Students' Association's website.