Reading Time:
4
minutes
Edinburgh University Students' Association's Student-Led Teaching Awards are back to recognise outstanding members of learning and support staff. After a challenging year for everyone, we're celebrating our worthy nominees by shouting about their successes across our digital platforms.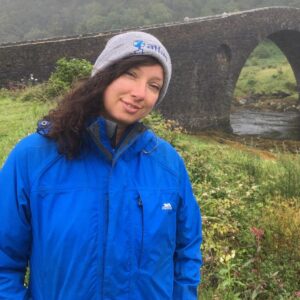 What is your full name? 
Lea-Anne Henry 
What is your job title? 
Chancellor's Fellow 
What school or service do you work in? 
School of GeoSciences 
Please tell us a little bit about yourself and your role. 
I came over from Canada to Scotland 17 years ago, and being a marine ecologist, I love living so close to the ocean. After raising a young family, I've now been with the University of Edinburgh for 4 years after a string of part-time postdoctoral positions where I researched the biological diversity in our oceans and the impacts of human activities and climate change. Today, I lead a large international workpackage team from South Africa, Brazil, Europe and North America of the science on drivers of change in our deep oceans as part of the Horizon 2020 project, "iAtlantic".  
As the current Programme Director for the School of GeoSciences' MSc in Marine Systems and Policies degree, I have been given the opportunity to share this knowledge and train our next generation of marine scientists in a well-rounded degree experience from social and policy systems to ecosystem science. It's now my third year in this role,but I actually find that I am also learning from our students. They come from all over the world and I too learn from their experiences and knowledge, and for that, I am grateful. My current role as Programme Director keeps me busy, but I feel well-supported by my students themselves, my Deputy Programme Director Dr. Sebastian Hennige, and our wonderful School's Postgraduate Teaching Team, especially Prof. Simon Shackley, Susan Orr and Kathryn Will – but there are really too many to name because all the other Programme Directors at PGT level have also helped us feel we are doing our best in the circumstances. Frankly, it's just a relief to have a laugh with them sometimes. It's a role I hope to continue in for many years because of this support network. 
What does it mean to you to have been nominated for a Teaching Award this year? 
In the covid era of uncertainty, home-schooling, hiring-freezes, pay-freezes, and challenges of conducting international marine research, being nominated for a Teaching Award means so much to me and our Deputy Programme Director. It means that our students are enjoying their time with us, and that they understood our challenges as their lecturers: we need to keep students safe, and we found ways to have field excursions while following governmental guidance. It's also a great indicator of the workload we've taken on to ensure student satisfaction. It also means that I no longer wonder if I am sinking or swimming in this role: I think my head's above the water at least. Finally, it means we'll definitely have to plan an amazing field trip at the end of our year together to thank them all! 
What's your favourite part of your role and working with students? 
My favourite part of the role is watching students brainstorm to solve problems, theoretical or applied in the field. Our students especially come from such diverse academic backgrounds, their approaches to problem-solving are all so different and they learn massive amounts from each other. 
How have you adapted your approach to teaching and supporting students under the Hybrid Model this year? 
In Semester 1, we top-loaded our in-person teaching hours a lot and did a few field excursions locally to visit the new seal pups, and to learn about marine science communication. For each (normally 3 hour) class each week, we ran back to back "tutor groups" of smaller sized classes, one hour each. Then we did another hour for any online students studying with us remotely in their time zones (Mexico to China!), and another hour online to cover a question and answer session that week. For just our Programme students, we also ran two back-to-back in-person sessions each week to talk about our Programme, plan our dissertation projects, and just to check in with everyone, including online students who joined us live then too. We used pre-recorded lectures for our courses to get across main content, so any in-person time was spent developing a new skill or understanding, or groupwork. The best part of hybrid teaching and our need for social contact and comfort was the students bringing in fresh pastries and home-baking too! We had to stop in-person near Christmas, and we look forward to getting back soon. 
What's been the biggest challenge in your role this year? 
The balance between my own family's homeschool/scientific research/teaching has been the biggest challenge. I still prioritise my children's teaching above all else, they are teens now and close to university so we need to make sure they are prepared in this new era. Making sure our students' mental welfare is being looked after is a new challenge too as we've needed to learn ourselves about all the support networks the university offers our students. Beyond that, I've already warned my line manager not to expect too many first-author papers from me this year! But I look forward to getting back to some writing again soon. 
What would you say to the student(s) who nominated you, or students who are considering submitting a nomination for a staff member who has had an impact on them? 
Your nomination has really helped bolster my own confidence in my role as your Programme Director. I didn't realise I needed that re-inforcement until I actually got it from you. Thank you. You all get A's 😉 
To find out more about the Teaching Awards and browse nomination categories, please visit the Students' Association's website.