Reading Time:
2
minutes
Edinburgh University Students' Association's Student-Led Teaching Awards are back to recognise outstanding members of learning and support staff. After a challenging year for everyone, we're celebrating our worthy nominees by shouting about their successes across our digital platforms.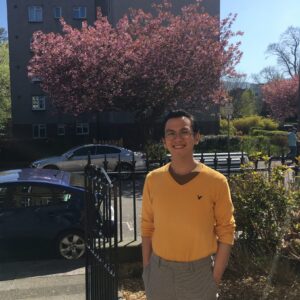 What is your full name? 
Andrew Yong 
What is your job title? 
Theoretical Particle Physics PhD Candidate 
What school or service do you work in? 
School of Physics & Astronomy 
Please tell us a little bit about yourself and your role. 
My name is Andrew and I am a third year PhD candidate in the Particle Physics Theory division. I joined the University for the PhD programme in 2018 to study the fundamental building blocks that make up the visible Universe. For me, part of the appeal of doing research in academia is the opportunity to teach or, in my case, to help out with tutorials. I love fundamental physics and I enjoy sharing it with budding physicists just as much. 
In the previous semester, I have tutored the introductory mathematics course for first year undergraduates and a primer course on Quantum Mechanics for third year Honours students. Currently, I am continuing as a tutor for the sequel to the aforementioned introductory mathematics course. 
What does it mean to you to have been nominated for a Teaching Award this year? 
Most importantly, I am relieved to learn that at least some of the tutees are finding these online tutorials useful. The course organisers and the teaching assistants have worked really hard to make it possible with the ever-changing circumstances of 2020. We know it isn't easy to learn virtually, and I commend these hardworking students for overcoming challenges after challenges in these past months. 
What's your favourite part of your role and working with students? 
Helping tutees make sense of new and complicated ideas! 
How have you adapted your approach to teaching and supporting students under the Hybrid Model this year? 
With degrees like Physics, it is crucial that the tutees see the analytical work on a 'board'. In that sense, working on a tablet and sharing screens really help to preserve the 'classroom' environment. I have also kept the video on because I think it helps to digest information if we can see the natural gestures, as well. 
What's been the biggest challenge in your role this year? 
Possibly the 'inorganic' nature of learning/teaching online. It can be difficult to stay enthusiastic/in high spirits while speaking to a blank screen! 
What would you say to the student(s) who nominated you, or students who are considering submitting a nomination for a staff member who has had an impact on them? 
Thank you. Thank you for actually putting effort into filling nomination forms! I really hope the tutorials helped and it was an absolute pleasure to work things out with you all! 
To find out more about the Teaching Awards and browse nomination categories, please visit the Students' Association's website.