Don't Try This At Home
What is a Service?
The ITIL definition, if you're not familiar with it, is about co-creating value by "facilitating outcomes customers want to achieve, but without the ownership of specific costs and risks".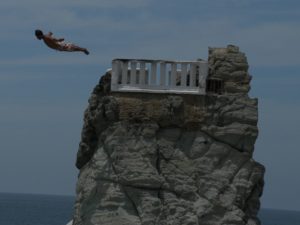 The first time I read this, it threw me a little. I thought to myself: "The way this is written, it makes it sound like a service is just something that we do for someone else, so that they don't have to do it for themselves."
And then the light went on, and I realised, yeah… that's what it is saying.
This may seem intuitively wrong, perhaps because it would often be the wrong decision for a business unit to try and do something highly specialised off their own bat. But, practical limitations notwithstanding, it is still a decision.
Ultimately, any part of a business can perform any function.
They might not be able to do that immediately, which is one reason why the logic can seem wrong. Certain functions are going to require specialist knowledge, experience, or even legal compliance or certification.
But these hurdles don't mean that a business unit cannot perform those functions – only that it will be expensive to do so, and take a long time to be able to start – which is of course, another form of cost.
And so, yes, any business unit can do anything. Any business unit can do IT. Any business unit can do HR. Any business unit can do curation. Any business unit can perform brain surgery, if it wants to employ or train up qualified neurosurgeons.
Practically speaking, it may be impossible to resource that in the real world. But if you were willing to pour money indefinitely into a bottomless pit, you could bring any function into any business unit.
You could.
But… you probably shouldn't.

A service is what you want (as a customer) when you're looking to achieve a set of outcomes, but you don't want the responsibility of owning all the costs and risks of attaining those outcomes. Whether you want reliable email, or a satellite put into orbit, chances are you can pay someone else to facilitate those outcomes, without having to learn the part that looks like rocket science.
Learning about rocket science, or your nearest equivalent, is costly, yes – and it's often good to let a service provider assume those costs for economies of scale. But it is not just costly to learn rocket science. It can also be risky.
Risk is often countered with knowledge. So, doing something for the first time, when there may still be a lot of unknowns, is usually riskier than doing it for the 100th time, when it may be second nature. Experience, whether individual or captured as knowledge within an organisation, really matters.
Service providers will expect to be able to offer a wealth of experience that their individual customers could not easily attain for themselves. They have the benefit of specialisation, and so they can spread costs associated with any initial learning and development, but they can also reduce overall risk; economies of scale also apply to risk management.
Even in comparatively risky fields, a service provider's ability to smooth out operating costs among many customers tends to mean they can subsume the cost of managing or recovering from risks into their pricing, eating the occasional misadventure along the way. This means that while customers may see higher service charges in risky fields, they may expect to be off the hook for the actual costs when things go wrong, or see comparatively lower risks for their own business  than could be offered individually, even with similar levels of expertise.
To an extent a contract with a service provider can act like an insurance policy. You have an agreement that your service provider will… provide a certain level of service. That part isn't rocket science.
But it's then up to them to manage provision to that level, regardless of bumps in the road. And if the worst happens, the service provider is usually on the hook for recovery back to that level of service (although not necessarily the continuity of the business itself, or any consequential costs…)
Finally, why mention the idea of specific costs and risks?
Well, probably because which costs and risks a service provider will own should quite literally be specified as part of your agreement with them. But perhaps also as a reminder that the service provider's ownership of costs and risks is inherently limited.
The service provider does not own all the risks of running your business. They assume a limited set associated with the provision of service, and the rest is up to the customer. That's why getting the right agreement is important, but also a reminder that the customer needs a good understanding of why they want to faciliate certain outcomes.
As a service provider, there's a lot to learn from understanding this perspective. We should strive to talk about our offerings more in terms of how they facilitate outcomes, but should also encourage our customers to really consider their needs. We should be more comfortable engaging with those needs in terms of the value that we are providing, rather concentrating too much on the mode, or the means, of delivery. Keeping these things in mind will help us form better agreements initially, which will then help us to track our successes more meaningfully.
The big change to the above definition in ITIL 4 is that it starts to talk about "co-creation" of value – in recognition that working towards  the right agreements on service provision should usually be a collegiate rather than adversarial process.
Next week James Jarvis plans to look at the difference between a Service and a Function, so stay tuned for that post!
("Mazatlan Cliff Diver" photograph by Lisa Andres)