I Know What You Did Last September
I Know What You Did Last September
Do you remember September 2018? Is it just a blur? This week's blog will look at what our University Service Support tool data tells us about last year with the Student Experience being the focus. It will also attempt to predict what may happen this year!
For many parts of the University, September represents the busiest time of year. We have thousands of new students arriving at our accommodation who may still be trying to pay fees, open bank accounts, complete immigration requirements, register with a doctor, choose classes and make new friends.
Show Me The Data!
Those monitoring our Twitter Alerts might recall there were two network Major Incidents last September. These had unrelated root causes. Beyond these headlines the call data allows a deeper insight.
The 10910 tickets identified as raised by students came from 7685 unique individuals.
In this post focus will be on tickets unequivocally raised by students. It represents a sample of the overall student support picture and it will biased towards the support functions that record the identity of the caller. The word cloud below details the frequency of words used in the ticket categorisation.
When broken down by college and student type we see that the majority of tickets are from taught students.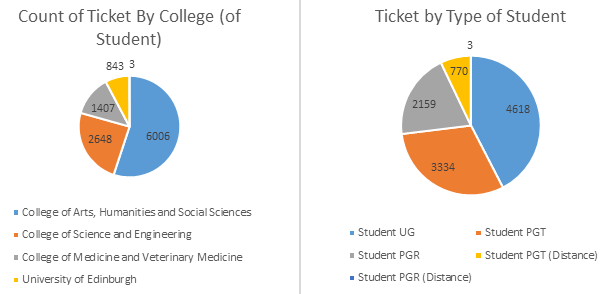 Identifying which student year is raising the most tickets is actually more difficult than it may first appear. The following chart is tickets by the two "year" digits of the student username – not a true measure of which study year they are (as they could have deferred or could be returning on a second degree programme or indeed may have been assigned a number for the following year!). Taking these caveats into account, it is still evident that newer registered students are the main source of support calls.
Finally we want to know what the students were asking.  Most tickets were service requests – with WiFi being the number one request.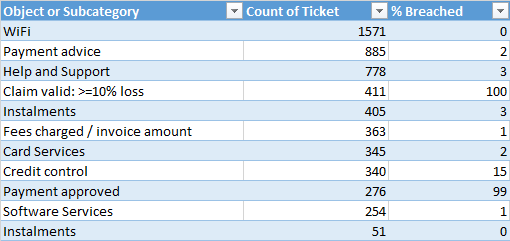 When things go wrong, the tickets are recorded as Incidents. Rather disappointingly the non-informative "Help and Support" categorisation came out top.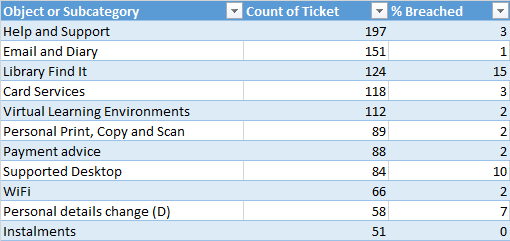 Predictions for September 2019
Jorge Satayana said, "Those who cannot remember the past are condemned to repeat it". So what will repeat this September and what will be different? And have we learnt?
We have 41 operator groups added since last September including a major overhaul within Finance with all calls coming in via a single Finance Helpline. Other new UniDesk operator groups include the Student Info Point, Scholarships – Student Administration, Fees – Student Administration and Student Immigration. The categorisation has improved and the communication with new students has been refined
Last year the one-off Student Opportunity Fund ran using UniDesk to record requests. We also had two major incidents involving the network (although these did not manifest in a significant number of tickets from students).
Overall, the student services for which we will have support data has greatly increased.
More Service Request tickets from students will be logged, particularly from undergraduate students.
Many of these tickets will be handled by teams within University Secretary's Group.
As a consequence, the percentage of tickets arising from staff will fall.
Whilst the number of tickets for IT and Library will not change greatly, their percentage of the total tickets will fall.
Consequently, the percentage of tickets that are incidents will fall from 16% to below 10%.
Finance Helpline will overtake IS Helpline in student tickets logged.
(Copyright The University of Edinburgh 2019)
(Copyright The University of Edinburgh 2019)
(Copyright The University of Edinburgh 2019)
(Copyright The University of Edinburgh 2019)