Back to the Future of IT – ucisa SSG19
Back to the Future of IT – ucisa SSG19
ucisa (That lower case U is not a typo!) is an organisation which the University of Edinburgh has been a member of for a number of years, but it's one that you might not know much about.
ucisa is the member-led professional body for digital practitioners within education and encourages FE and HE organisations to collaborate, transforming teaching, learning and research to ensure both operational efficiency and an excellent student experience.
There are 9 special interest groups and the University of Edinburgh is represented on three of those, with Mark Ritchie and Stefan Kaempf of Applications Directorate on the Project and Change Management group, and the Corporate Information Systems group respectively, and myself on the Support Services Group. Our involvement in these groups ranges from hosting community days, through contributing to best practice toolkits and even helping to organise and deliver full user group conferences.
This week it was the turn of the Support Services Group to host our annual conference and I was really pleased that we had delegates from across the University attending the event in Leeds We had 3 colleagues from the College of Arts, Humanities and Social Sciences, as well as 3 of us from ISG, including Catherine Hetherington who presented UniDesk's success story celebrating the collaborations we have with other Universities.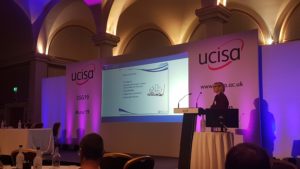 The Support Services Group Conference (SSG19) has the theme of "Back to the Future of IT" this year. We wanted to focus on what students want from IT in the ever changing, fast paced technological world. Choosing a conference topic is never easy, but this particular theme gave us the chance to hear from speakers on a huge variety of topics and the sessions have sparked lively debate and given people lots of ideas about their own service areas.
Everyone comes away from a conference with their favourite speaker, but for me it has to  be Microsoft's Hector Minto. Hector is the Accessibility Evangelist at Microsoft and I think we all came away with some great hints to help make our support tools and pages accessible to all. For example, did you know that holding down the Windows Key and hitting the "=" key immediately opens a magnifier that will work on any application? Nope, me neither!
Hector showcased a wide range of free assistive tools that many of us don't even know are there and he shared Microsoft's story of how they recruit for excellence and have developed a tool called "autism@work" to help overcome the difficulties that some autistic people can have with what we demand from the standard application process. You can read more about these and other great, innovative features at aka.ms/accessibilityfeatures
Thursday also included an introduction to ITIL4 as well as a great parallel session on Durham University's work to develop their UniDesk Self Service portal. There was a really popular session on Mental Health First aid and a presentation from Happy Signals who are vendors for a Customer experience tool.
There's really been a great, diverse programme this year and the conference team have done an amazing job to secure such inspiring speakers that really spark ideas.
it's a conference that gets across lots of relevant information in an informal and friendly way
Carne Burke – Learning and Information Technology Manager, LLC, CAHSS
ucisa SSG is such a worthwhile, friendly and interesting experience. I found many of the talks very useful and have taken a lot of ideas away and plan to implement some changes in my team as a result. In particular, I found the talks from Durham on Self Service and Lancaster about ASK L.U. useful and eye opening. Thank you to everyone at ucisa for organising such a fantastic conference!
Cindy Philp – Finance Helpline Supervisor, User Services Directorate, ISG
But it's not all learning. Conferences are a brilliant place to network and my first task of conference this year was to host a "Speed Networking" event on day one – think speed dating, you chat to a new person but you ask each other questions about your role, what you're looking forward to at conference and what your favourite biscuit is (biscuits and tea play a big part in ucisa!) Seeing a whole room of new attendees chat freely with each other was a brilliant start to the event and it's a tool we could use in ISG to help get to know each other at the next ISG All Staff meeting.
Having just started with the University of Edinburgh, I was lucky to be able attend the ucisa SSG for the first time.

I thoroughly enjoyed listening to the  amazing speakers on some of the interesting topics to name a few –  Driving change in Disability employment and creating awareness , Integrating  Live chats, AI ,chatbots into support , customer driven IT service desk, future of technology in universities. All the topics were truly thought provoking and left me thinking how we could improve customer experience within the school and beyond. It was a great platform to meet and network with people from different universities.
Pooja Patel – IT Service Delivery Manager, PPLS, CAHSS
There was also a treasure trail on Wednesday night and Thursday finished with dinner and an 80's disco, costumes were mandatory for the committee so if you look carefully on Twitter you can laugh at some pictures of me dressed as my 1980's Goth Pop idols!
SSG19 has been a super ucisa conference – a great mix of presentations and the opportunity to connect with like-minded HE colleagues. The 80s disco was an inspired choice to dress up, let your hair down or even backcombed 😉
Catherine Hetherington – Collaborations Services Team Manager, Applications Directorate, ISG
Today is the end of the conference, but it's the beginning of a new role for me. I am now co-chair of this amazing group with Alastair Reid-Pearson from Huddersfield University. We're both really excited about working together to lead the group through its next phase and in September we'll start to plan out our next set of events including the 2020 Conference. All ucisa groups are made up of dedicated people who volunteer their time to collaborate on improving educational technology services and our group is made up of 14 people from across the UK who continually amaze me with their enthusiasm and will to make Support Services the very best they can be.
We're also starting with a new CEO, Deborah Green.  I already know that Deborah is really keen to continue to foster collaboration across the sector and to encourage ucisa groups to make an impact on a bigger scale, so I will be coming to you and asking what you want to see from ucisa in the coming months.
Going to conference is often seen as "a jolly" and if the conference isn't well considered, well attended and well received then it can seem like the socialising at night is the best bit, but I'm proud to say that the SSG Conference has been a real success and I hope to see more of you there at the 2020 event. It's often hard to find the time to attend conferences or industry events, but hopefully the comments from my colleagues show the gains you can get from stepping out of the office and spending some time hearing new ideas.
If you'd like to know more about ucisa or any of the support group activity, please do get in touch with me. I'm sure Mark and Stefan would also be delighted to chat about their groups and the work going on there.
You can also see all the sessions from the conference at this link
https://ucisa.mediasite.com/mediasite/Catalog/catalogs/ssg19