ITIL4 – Building new Foundations.
ITIL4 – Building new Foundations.
Over the last 12 years, we've had 516 University of Edinburgh staff complete ITIL Foundation training and at the end of May, we ran our first ITIL4 Foundation, adding another 14 names to the list.
I was one of the attendees on this course, sitting an ITIL Foundation for the third time (I can tell you it's a lot more nerve wracking sitting it as "The ITIL Manager", just as well I passed!)
Today I'll be writing a bit about my observations on ITIL4 and we'll hear from some of the other attendees who shared their experience with me for this story, hopefully this will whet your appetite for ITIL training and perhaps we'll see you on a future course.
This course was delivered by Tony Gannon of QA, our ITIL training associates, and was organised by Carne Burke, the ITIL Expert in the College of Arts, Humanities and Social Sciences. Carne consulted with the ISG ITIL team as she set up these courses and this meant that we were able to offer places to colleagues from across the University. This resulted in us having attendees from College of Science and Engineering and Information Services join the course. Carne is very engaged with the work of our new team and it's encouraging to see ITIL and ITSM being taken seriously by our academic support colleagues.
The course was delivered over 3 days, with a closed book, multiple-choice exam at the end. The course started with an introduction to ITIL itself, we then went on to learn about the Four Dimensions of Service Management and were introduced to the five components of the Service Value System.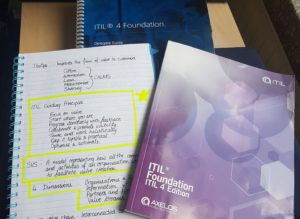 ITIL4's entire ethos is about enabling value co-creation. It's about showing us how teams and functions can work together to achieve business goals and to continue to improve our services together.
Because of this, ITIL4 has been designed to help support businesses with the ever-expanding set of methodologies that we see in the Modern Service Management world. ITIL4 has been written to allow it to be used alongside other process frameworks such as DevOps, SIAM, and Lean.
The new Service Value System looks at Guiding Principles, Governance, the Service Value Chain and Continual Improvement alongside the existing Practices we all know and love – Service Desk, Incident Management, Problem Management, Change Management to name but 4 of the 7 core practices.
I was really encouraged to hear the conversations going on throughout the course. Despite the fact that we were coming from a variety of roles from Learning Technologists to AV Technicians, we all shared an interest in delivering quality services and finding out how ITIL could help us do that.
That's the great thing about ITIL, it's not just "for the IT people" It's a framework of common sense guidance that can help people delivering any kind of service.
Here are some quotes from the other attendees:
Anyone can at least take something away from ITIL, whether it be the whole structure, or just snippets of information which can be applied to your own working environment, it's a very applicable tool!

I think I appreciated the fact that, your entry level didn't matter, we all tackled it together and most of the time, I didn't feel intimidated.

I thought it was interesting and provoked lots of great conversations, and at the end of the day if best practice is what we're aiming for then this sort of tool was a great way of discovering what that could and might look like!
Helen Leigh – Technology Support Officer, ECA
The ITIL 4 Foundation course was well structured and delivered excellently by a knowledgeable trainer. The course will help in my current role of managing IT services for the University by following the ITIL guiding principles.
John Chan – Applications Support Analyst, Production Management, ISG
One thing that amazed me was that before I did the ITIL course I didn't even think it is possible to structure service management guidance to such detail as it was shown in the course.
Piotr Bialanowski – Technology Support Officer, School of Economics
I'm pleased to say that, thanks to Tony's expert guidance we all survived the exam and we had a 93% success rate with almost everyone passing. We can all display our certificates with pride, knowing we're the first of the next generation in ITIL.
Overall, ITIL4 looks very promising and the Foundation is a brilliant introduction to ITIL and the different concepts it contains.
It was a great introduction to the new features of ITIL4 and I think it will help us really embed co-creation of value for the University of Edinburgh.
Over the coming blogs we'll be writing more about ITIL4, we'll also be running some more ITIL Foundation courses. Alongside that, Carne has also arranged a series of ITIL Training courses in the coming year. If you'd like to know more about these courses please get in touch with the ITIL Team
ISG-ITIL-Team@mlist.is.ed.ac.uk