Reading Time:
3
minutes
Edinburgh University Students' Association's Student-Led Teaching Awards are back to recognise outstanding members of learning and support staff. After a challenging year for everyone, we're celebrating our worthy nominees by shouting about their successes across our digital platforms.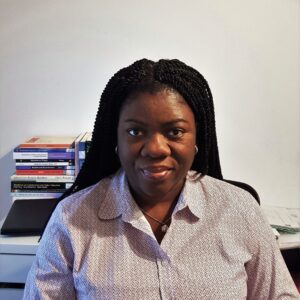 What is your full name? 
Omolabake Fakunle 
What is your job title? 
Chancellor's Fellow 
What school or service do you work in? 
Moray House School of Education and Sport 
Please tell us a little bit about yourself and your role. 
I have worked at the University since 2016, first as a Postgraduate Tutor, and later as a Teaching Fellow, until 2020. I was recently awarded a Chancellor's Fellowship. I have also been the Coordinator for the MSc Education General Pathway since 2019. My role actively integrates my research into internationalisation, inclusivity and student experience with my teaching practice and my service as a member of EDI subgroup with a remit to support students and improve their sense of belonging. 
What does it mean to you to have been nominated for a Teaching Award this year? 
It is heart-warming to receive a Teaching Award nomination. I am very grateful to the students who have nominated me in two categories. Considering the challenges in the transition to online learning and teaching, it is really kind and thoughtful of our students to take the time to acknowledge the contribution made by tutors. This means a lot. 
What's your favourite part of your role and working with students? 
It is always great to work with students as co-partners in learning. This is especially rewarding when we share different ideas about existing constructs or novel ideas to broaden our understanding. 
How have you adapted your approach to teaching and supporting students under the Hybrid Model this year? 
I have adopted my teaching to make the most of the transition to the hybrid model. I have done this effectively by ensuring that I clearly communicate with the students the expectation in terms of engaging with the asynchronous lectures and the synchronous workshops. Importantly, the pre-lecture reading list is uploaded in advance. Students are therefore supported to prepare in advance for the workshops. 
What's been the biggest challenge in your role this year? 
Initially, I struggled with the technology. It has, therefore, been helpful to attend IS training sessions and to talk with colleagues. I now feel more confident in my ability to deliver my lectures online. The challenge remains that designing online lectures takes a much longer time. In addition, it is sometimes difficult to encourage student enthusiasm to have more interactive discussion in the online class. As with everything, these challenges are also works in progress. 
What would you say to the student(s) who nominated you, or students who are considering submitting a nomination for a staff member who has had an impact on them? 
I am very grateful to the students who nominated me. It is very encouraging for every staff member to know that your students want you to know that they value you and the work you do. I understand our students are very busy and I would want them to know that we truly value them taking the time to submit a nomination for a staff member. 
To find out more about the Teaching Awards and browse nomination categories, please visit the Students' Association's website.