Reading Time:
2
minutes
Edinburgh University Students' Association's Student-Led Teaching Awards are back to recognise outstanding members of learning and support staff. After a challenging year for everyone, we're celebrating our worthy nominees by shouting about their successes across our digital platforms.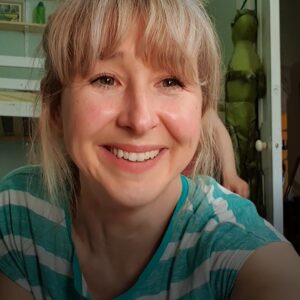 What is your full name? 
Nikki Moran 
What is your job title? 
Senior Lecturer in Music 
What school or service do you work in? 
Edinburgh College of Art 
Please tell us a little bit about yourself and your role. 
I moved to Edinburgh in 2007 when I got my lectureship here – before then I lived and worked in the south-east of England. I spent some time in Mumbai, India studying the sitar. While I was a student, I used to design and deliver community music workshops, busk, and play in a string quartet at weddings and funerals to pay the rent. 
What does it mean to you to have been nominated for a Teaching Award this year? 
I'm really so happy. It is so inspiring when students reach out and take time to explain what has really worked for them – makes me start planning what I might do next.
What's your favourite part of your role and working with students? 
Watching thinking happen! I love being able to make space to do this. Seeing ideas working themselves out in conversations, playing music, seminars. The discussions I get to have with lots of different people.   
How have you adapted your approach to teaching and supporting students under the Hybrid Model this year? 
After the pandemic began I realised I was already doing lots of digital-hybrid teaching. I hadn't given it a name before that! In the past year of lockdown restrictions, I've been deliberately finding ways to get more sensation (touch, smell, feel, colour) into the digital classroom because we all need that to stay OK at the moment. I've brought in techniques from mindfulness and improvisation practices. 
What's been the biggest challenge in your role this year? 
Home schooling. No office. No ensembles/orchestras. 
What would you say to the student(s) who nominated you, or students who are considering submitting a nomination for a staff member who has had an impact on them? 
Thank you. Really appreciate that you took the time. 
To find out more about the Teaching Awards, please visit the Students' Association's website.