Reading Time:
4
minutes
Edinburgh University Students' Association's Student-Led Teaching Awards are back to recognise outstanding members of learning and support staff. After a challenging year for everyone, we're celebrating our worthy nominees by shouting about their successes across our digital platforms.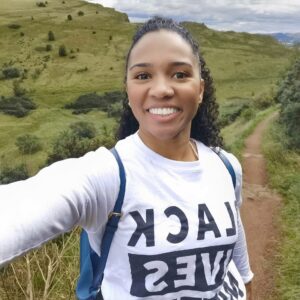 What is your full name? 
Katucha Bento 
What is your job title? 
Lecturer in Race and Decolonial Studies 
What school or service do you work in? 
Sociology 
Please tell us a little bit about yourself and your role. 
I became a teacher as part of my family education of music and dance teachers. It felt like part of my life for which I am grateful. However, there are many other nuances that shaped my path to arrive in Edinburgh. My background is rooted in the Black Movement in Brazil, samba community and quilombo territory. Researching with communities from the African diaspora has been contoured and sustained by Black feminisms and feminists, Critical Race Studies and Decolonial Studies, and the authors who speak from and with Global South perspectives. I have taught in Angola, Brazil, Germany, Spain, and the US America, only to learn that my role as a mediator of knowledge requires moments of listening carefully to the knowledge that students bring with their experiences, different personalities and bright curious minds. I worked in the postgraduate programme teaching Methodology (an area that I have a particular interest in, as my MA is in Sociological Research) in Brazil and while finishing my PhD, I worked as a Teaching Fellow at the University of Leeds teaching topics on Race, Gender and Queer Studies, and also Methodology. Arriving at the University of Edinburgh meant to finally find a team of colleagues with whom I could share such experiences and build something meaningful in the teaching and researching practice together. This collective work has been refreshing and inspiring through the courses on Race and Ethnicity that I will convene in the next academic year, Social and Political Science in Practice focussed on the topic of Race, Sociology 1B – I taught the unit on Race, and the recent course Understanding Race and Colonialism that will be released in the next academic year. All these courses and unit were collectively designed with my colleagues Shaira Vadasaira and Nasar Meer. The solidarity and respect exchanged in this team reflects on this nomination and makes me even more passionate to enter the classroom. 
What does it mean to you to have been nominated for a Teaching Award this year? 
It humbles me to be nominated for this award, as this is a result of a shared commitment to developing inclusive and decolonial pedagogies with my colleagues from Race.ED and the department of Sociology. I believe in the transformative power of education to create means to organise and develop strategies in promoting social justice and societies with loving, ethical and liberating experiences. I hope to make justice to such a goal and this nomination as long as I practice any educator and teaching role. 
What's your favourite part of your role and working with students? 
The engagement with the students during tutorials, Q&A sessions are the best! The comments and questions as the weeks go by showing the development of our teaching-learning progress. It is inspiring and also helps me to understand how I can improve (give more details in my next explanation or dedicate more time to a certain topic). These moments are also rewarding as the students exchange ideas and knowledge with each other, practicing the dialogical aspect of the classroom that we sometimes idealise in theory. 
How have you adapted your approach to teaching and supporting students under the Hybrid Model this year? 
I have provided more "conversations over tea" online with students, whether by offering an extra hour during the course or by request of the students to discuss a particular topic or their emotional burden that has been highly impacting the academic community as a whole. I've taken a few pieces of training about pastoral support and could offer assistance and information to students when needed – this makes a huge difference in times of hybrid learning. In regards to interactions in the digital classroom, I used padlets, videos and Kaltura Capture as the students can see you and slides at the same time. I believe these materials helped provide a good dynamic for the course and more human interaction when discussing these materials in the tutorials. Having a biweekly meeting for Q&A (besides lecture and tutorial) helped to create rapport with students. From this experience, I have received many messages from students discussing their engagement with the topic, showing me extra materials that they found out online, or asking questions that were not necessarily related to an essay production, but for their own curiosity and growth. 
What's been the biggest challenge in your role this year? 
I started working at the UoE in August 2020, during the lockdown. At the same time, I was mourning for two members of my family who passed away within the first two weeks before I started teaching at the UoE. I received full support from the University, but it was difficult to absorb new information. It took me weeks and many repeated training to learn how to use the new platforms and technology necessary to start teaching. I finally did and I believe the experience made me stronger and more attentive to the importance of pastoral support for students (mentioned above). 
What would you say to the student(s) who nominated you, or students who are considering submitting a nomination for a staff member who has had an impact on them? 
Thank you for giving so much colour and light to my teaching path! Engaging in these conversations to recognise professionals who are inspiring or supporting your growth is not only part of good academic citizenship practice, but a form to circulate the respect and admiration that hopefully, you will receive in your professional career. 
To find out more about the Teaching Awards and browse nomination categories, please visit the Students' Association's website.