Reading Time:
2
minutes
Edinburgh University Students' Association's Student-Led Teaching Awards are back to recognise outstanding members of learning and support staff. After a challenging year for everyone, we're celebrating our worthy nominees by shouting about their successes across our digital platforms.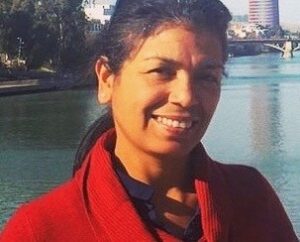 What is your full name? 
Mary Diaz 
What is your job title? 
Lecturer in Biomedical Sciences 
What school or service do you work in? 
Medicine 
Please tell us a little bit about yourself and your role. 
I have worked at Edinburgh University for 15 years – My job implies design and delivery of teaching learning tasks as well as support for learning.  I like to be there to listen and to support students at every step of their degrees. 
What does it mean to you to have been nominated for a Teaching Award this year? 
It is great honour to be nominated! It makes me very happy to notice that students show an appreciation of my efforts to enhance the student's experience. This demonstrates a great alignment between the intentions of my job and how students see me. Thank you!   
What's your favourite part of your role and working with students? 
I am a student's cantered teacher. I enjoy every opportunity to listen and to interact with students and support their development, whether in the laboratory or the classroom. I also enjoy promoting a sense of community amongst students. 
How have you adapted your approach to teaching and supporting students under the Hybrid Model this year? 
I developed my laboratory practicals in a way that made these interactive and engaging. I also planned my practicals to be provided synchronously, to make sure the students could gain extra insights from support and integrations with the demonstrators and myself. I also provided opportunities for very active discussion forums where students and myself interacted to help each other. 
What's been the biggest challenge in your role this year? 
My biggest challenge has been finding more time to be there for the students during this challenging period and at the same time being able to be there for my own underage son. As a widow parent to 13-year-old boy COVID restrictions have been really challenging, although we all know that these are needed. 
What would you say to the student(s) who nominated you, or students who are considering submitting a nomination for a staff member who has had an impact on them? 
Thank you so much for showing your appreciation! – This is a great way to provide feedback to all the staff involved. It is reassuring to realise that our efforts to enhance the student's experience align well with what students perceives. 
To find out more about the Teaching Awards and browse nomination categories, please visit the Students' Association's website.