Reading Time:
3
minutes
Edinburgh University Students' Association's Student-Led Teaching Awards are back to recognise outstanding members of learning and support staff. After a challenging year for everyone, we're celebrating our worthy nominees by shouting about their successes across our digital platforms.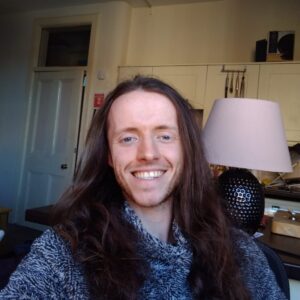 What is your full name? 
Callum Stevens 
What is your job title? 
PhD student – Quantum Condensed Matter Physics 
What school or service do you work in? 
School of Physics and Astronomy 
Please tell us a little bit about yourself and your role. 
I completed my Natural Sciences Masters degree at Cambridge University before coming to Edinburgh to start my PhD as part of the Condensed Matter – Centre for Doctoral Training with my supervisor Professor Andrew Huxley. In my current role I research the coexistence of different forms of electronic ordering in uranium based superconductors. I also teach and have taught for multiple courses run by the School of Physics and Astronomy. 
What does it mean to you to have been nominated for a Teaching Award this year? 
The most valuable part of my undergraduate degree was the opportunity to discuss problems and my confusion with my degree topics with tutors – who were often PhD or postdoctoral researchers. I remember those that put the extra effort into teaching because it made an immense difference to my understanding and enjoyment of the course. I want to give the undergraduate students I teach the same experience I had from those tutors that made such an incredible difference to my perspective of the field of study that I love. 
What's your favourite part of your role and working with students? 
Seeing the students gain insights and become excited about areas of Physics. It is amazing and inspiring throughout the term to see them develop as physicists and become more confident. 
How have you adapted your approach to teaching and supporting students under the Hybrid Model this year? 
I think it's important to maintain friendliness and interactions, especially between students, during times of increase social isolation. For this purpose I like to stimulate discussion through the online chat, having students comment how they are feeling as we discuss a problem or post reactions. Often students will reassure others that they are also confused or address each other's problems – which is great to see! On the online platform I have found students feel more confident to speak out and present solutions, which was often too intimidating in in-person sessions. 
What's been the biggest challenge in your role this year? 
Adapting to online teaching was challenging at first and I feel I made a lot of mistakes. We can't let the teaching experience be a passive exercise like watching a video recording – it has to be engaging and interactive! Sometimes this has been overcome by use of the appropriate technology like using a shareable online whiteboard that students can also write on. But most of all this has been a shift in presenting style to make sure students feel welcome to comment and challenge your explanations. 
What would you say to the student(s) who nominated you, or students who are considering submitting a nomination for a staff member who has had an impact on them? 
As a teacher it is wonderful to hear that you are having a positive impact on students and it encourages us to do even more to guarantee we are reaching every student we teach. If you have a teacher who has greatly impacted you please let them know – I promise it'll mean the world to them! 
To find out more about the Teaching Awards and browse nomination categories, please visit the Students' Association's website.