Glimmer of hope XVIII
COVID-19. Where are we now? What can we do? What does the future hold?
Part XVIII of Glimmer of hope (30-April-2020)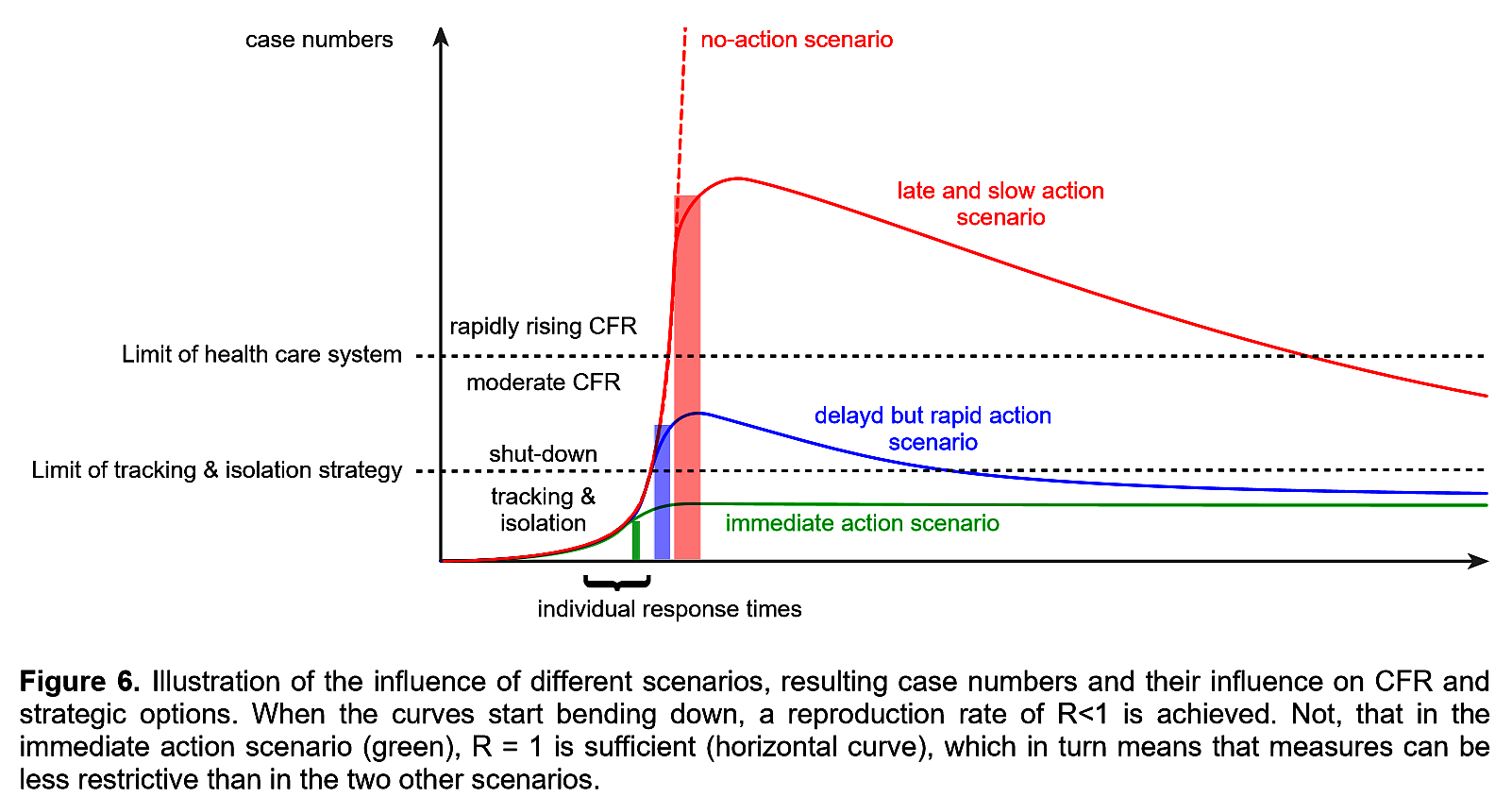 Graph and much of this blog page derives from Eppinger and Rueping
Summary
Despite early warnings, the COVID-19 pandemic took the world by surprise. An effective vaccine remains the world's best hope. Individuals can and need to manage their risk. I list my top-7 strategic actions for life with COVID-19 when unlocking first gets underway.
Where are we now?
If you die of COVID-19 or suffer from lung damage for the rest of your life that is significant. Half of the world is under curfew, the pandemic has infected many more than 3,130,800 individuals and caused the deaths of well over 227,051 (data as of 30 April 2020). However, at this stage of the pandemic, that is insignificant. Given present rates of spread the virus will take 100 years for the global population of 8 billion to achieve safety through "herd immunity". Only the development of an effective vaccine (2 years hence?) holds promise of a fast way out.
What can the individual do?
As the developed countries begin the slow process of lifting the phase-1 lock-down what precautions can individuals take in order to protect themselves, keep others safe and reduce overall risk? I will (and I suggest other people in my age group (the over 60s) should):
Get used to wearing a mask as a social duty.
Adopt the Thai, Japanese, South Korean style of meeting ceremony rather than continuing Anglo-Saxon handshaking or Mediterranean style kissing.
Renew their hand-washing and frequent disinfecting of surfaces with increased vigour.
Continue physical distancing measures.
Continue online grocery shopping.
Work from home as much as feasible.
Avoid super-spreading events – sporting tournaments, parties, and visits to the theatre or cinema.
The future
A funding boost is needed into pandemic-related research – e.g. into vaccine development, better estimation-prediction techniques, the effectiveness of preventative measures, behavioural responses and in technology driven tracing and isolation strategies. In particular, from my point of view as a number cruncher, we need more testing and more reliable data. NB. Just 1% of the projected global economic losses from the COVID-19 crisis could support 45,000 research scientists for 20 years.
Increased monitoring is by far the best way for early detection of any resurgence by the virus into a 2nd peak and the production of further economic mayhem. Extensive testing can provide countries with the time to react promptly. Theoretical modelling (Britton, 15 April 2020), ever improving datasets and common sense all support the view that at the start of an epidemic every day is crucial. The vast differences in infection and death rates between countries have been found to relate to the actions, or inactions, of their governments especially over travel control measures. Early and swift reactions, as opposed to woefully slow actions, helped contain the epidemic.
Worst of all was the deliberate "herd immunity" enhancing policy of the UK Government. Their inactivity accelerated the local epidemic and led to many unnecessary deaths, especially in care homes.
This blog page borrows heavily from the excellent, open access, review paper recently made available online by Eppinger and Rueping (posted 28 April 2020).