Fracking: Scotland, England and Wales take different paths
Fracking: Scotland, England and Wales take different paths
Recently each area has been following a different approach (not necessarily closely aligned to their perceived political stances).
Following devolution of onshore fracking legislation (e.g. Scotland Act, 2016 Section 47), each region has followed different paths. For example:
Scotland: Notwithstanding the Scottish Parliament's competence to legislate, no new primary legislation has been passed. Scottish Ministers had hoped to use existing planning laws to prevent fracking. However in June 2019 the Scottish Government actually granted INEOS an extension to its gas drilling licence 1 despite the SNP's preferred policy position of a moratorium on fracking and regardless of Ms. Sturgeon having declared: "Fracking is being banned in Scotland, end of story. There will be no fracking in Scotland. I don't think that position could be any clearer." in Oct, 2017.
England: July 2019, Prime Minister Johnson appoints Theresa Villiers, whose voting record shows her to be highly supportive of fracking, to the key Cabinet post of Environment Secretary. In Oct 2016 Sajid Javid (who this month was promoted to Chancellor of the Exchequer) formally overturned a Lancashire county council rejection of fracking within their planning area, at Preston New Road, on behalf of the Government. His ruling marked a major step up towards full scale fracking in England. As an illustration of local legislation: In July 2018 a High Court injunction was brought in to ban blocking of the Preston New Road  site entrance, while the ban on the use of the grass verges by pedestrians is enforced by High Court bailiffs. (Photo below, of author in the entranceway to PNR – before the ban – with drill rig behind.)
Wales: Unlike Scotland, the Welsh Assembly has introduced new primary legislation to make fracking more unlikely. As of the 16th February 2015 planning applications for the exploration, appraisal, or extraction of unconventional oil and gas (onshore Wales) which would utilise fracking techniques must now be referred to the Welsh Ministers (if local planning authorities are minded to approve them).
The Scottish position remains particularly piecemeal, in need of greater clarity and requires positioning within a long-term energy policy that addresses the question of 'how is Scotland's future energy need to be met'. The way Scotland produces and uses energy is changing rapidly. Consequently an up-front, honest answer that considers the trade-offs that will need to be made, why they are being made, and the financial costs involved is urgently required.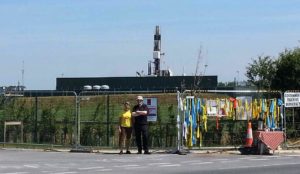 1 Licence PEDL 162 (initially granted in 2008 to Reach in the 13th licencing round) covers a large area (400 sq. km) in central Scotland, stretching from north Glasgow to Falkirk and Shotts. The operator's commitment to drill one well apparently remains unfulfilled making the decision to extend the licence for a 2nd time particularly surprising.