Fracking: likelihood for success?
Fracking: likelihood for success?
A new analysis demonstrates that the likelihood for successful fracking can be simply judged by the occurrence of previous oil and gas shows.
All across the USA those states which proved to be commercially viable for fracking (red names in diagram below) are found to have had high previous conventional gas production. In contrast states (green names) that have had no success with fracking are found to have had more moderate or no previous production. A production peak of over 100 billion cubic feet per year is thus seen to form a simple minimum requirement for successful fracking operations.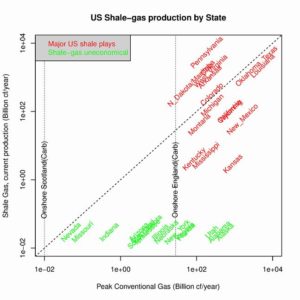 [Source: Roy Thompson, unpublished calculations]
Applying this minimum requirement, England (dotted vertical line) is found to be marginal (at best) for fracking success. Scotland (extreme left hand side of diagram)1 fails the prerequisite completely.
1 Scotland's peak onshore production in 1961, at Cousland, barely reached 0.05 billion cf/yr. Similarly English onshore gas production (from Carboniferous rocks) peaked, in 2000, at only 28 billion cf/year.