By Andrew Barlow
In my third year of my MPhys degree I was considering a career in research. Although, I first wanted to gain experience in a research setting as I previously had none. So, I applied for a summer project organised by the School of Physics and Astronomy.
---

I was accepted to take part in a project titled:

"Super-resolution emulation beyond the standard cosmology"

– a mouthful of a title that I knew very little about.

---
To give context to this project, an analogy is very useful here. Imagine that a photographer wants to store lots of detailed, high-quality pictures of pine forests – as they are a keen pine forest photographer. They are so dedicated to their hobby, they're able to accurately draw these forests from memory; from each needle on the tree to every pine cone on the floor. While printing these landscapes, unfortunately their printer starts to print very low quality images. However, as they're experienced in pine forest photography, they can look at the fuzzy outlines of trees in the picture and can interpret what the high-resolution picture would look like.
These forest pictures are the large scale models of the universe. To be able to create these high-resolution models, which are necessary for accurate simulations, vast computational time is needed. So, to greatly reduce this time, low resolution models are created first and then given to a special type of neural network – the forest photographer – to generate the high-resolution model!
My project consisted of using a pre-existing neural network created by Ramanah et al. [1] and establishing if it could increase the resolution of non-standard cosmologies, even though it was trained on standard cosmologies. To use our analogy, we are moving the photographer to work in an oak forest. Oaks and pines are both trees, but both have their unique features. Is the photographer able to draw high resolution photos of oak trees accurately? This question is what my project was set out to determine, but in terms of standard and non-standard cosmologies.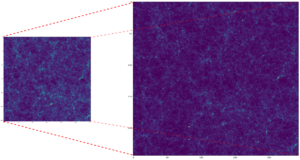 Even though my summer project did not involve any forest photography, it did involve the training of networks on a cluster of high performance computers, called Cuillin. Remotely accessing Cuillin for high speed calculations was a truly unique experience, something I doubt I'll ever do again. I also had to read research papers for information and my understanding which is an invaluable skill I've used in my 4th year of university. Especially when the research was recently published, and I couldn't rely on other sources or articles for a different perspective. Although this was a unique challenge that I hadn't previously considered, I still found it enjoyable. Building a thorough understanding about an unknown subject can be very satisfying!
When this project came to an end, I gave a presentation to my peers and staff. Like with most presentations, I was slightly nervous. However, I do belief that it's an important skill to practise. This opportunity was important to take in hindsight as I'll soon be delivering presentations which are assessed for my degree. After I completed my presentation and answered questions form the audience, I had finished my summer project.
Afterwards, I had decided that cosmology was not for me. Despite not wanting to pursue cosmology, I'm now certain that I want to pursue a career in research, thanks to this fantastic opportunity and my supervisor Dr. Cataneo who patiently guided me throughout.
(And for anybody that was interested, the research concluded that the photographer failed to draw oak trees. We would have to rely on their cousin – the oak photographer!)
[1] Doogesh Kodi Ramanah, Tom Charnock, Francisco Villaescusa-Navarro, Benjamin D Wandelt, Super-resolution emulator of cosmological simulations using deep physical models, "Monthly Notices of the Royal Astronomical Society", Volume 495, Issue 4, July 2020, Pages 4227–4236, https://doi.org/10.1093/mnras/staa1428
(https://pixabay.com/photos/forest-trees-fog-conifers-pine-3622519/)
(https://pixabay.com/photos/forest-trees-fog-conifers-pine-3622519/)
(https://pixabay.com/photos/forest-trees-fog-conifers-pine-3622519/)