Queer Korea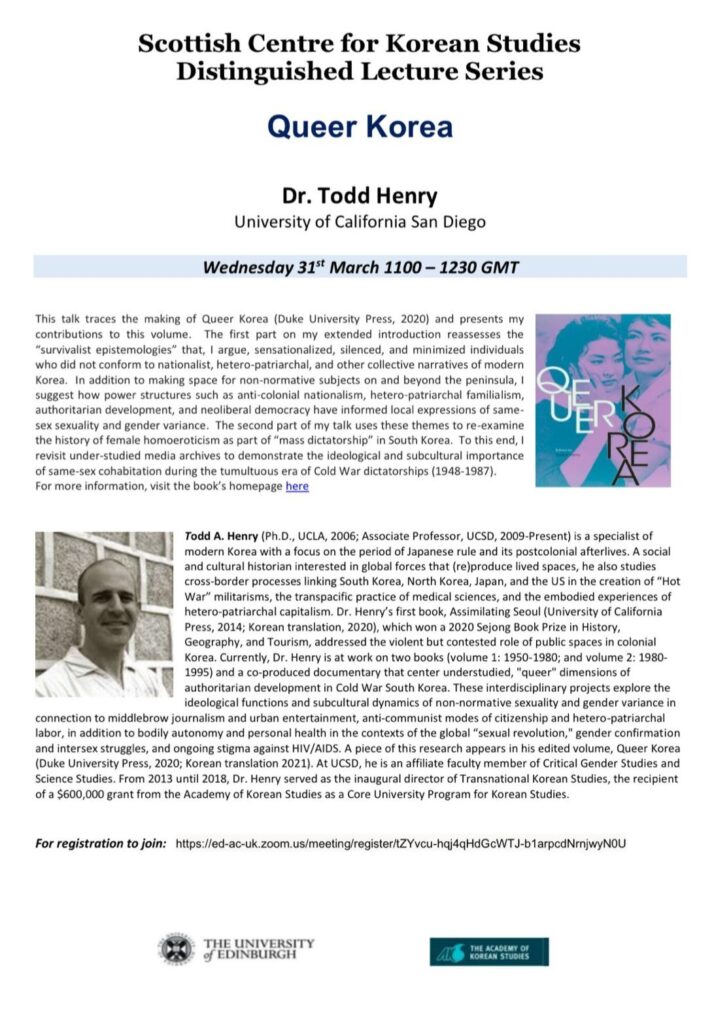 As part of the Scottish Centre for Korean Studies' Distinguished Lecture Series, Dr. Todd Henry discusses the making of, and his contributions to, the volume 'Queer Korea'. Dr. Henry reassesses the "survivalist epistemologies" that, he argues, sensationalised, silenced, and minimised individuals who did not conform to nationalist, hetero-patriarchal, and other collective narratives of modern Korea, illuminating non-normative subjects on and beyond the peninsula and exploring how power structures have informed local expressions of same-sex sexuality and gender variance. These themes are then used to re-examine the history of female homoeroticism as part of "mass dictatorship" in South Korea, where Dr. Henry has used under-studied media archives to demonstrate the ideological and subcultural importance of same-sex cohabitation during the Cold War dictatorships.
For more information on the book, please see here.
About the presenter:
Todd A. Henry (Ph.D., UCLA, 2006; Associate Professor, UCSD, 2009-Present) is a specialist of modern Korea with a focus on the period of Japanese rule and its postcolonial afterlives. A social and cultural historian interested in global forces that (re)produce lived spaces, he also studies cross-border processes linking South Korea, North Korea, Japan, and the US in the creation of "Hot War" militarisms, the transpacific practice of medical sciences, and the embodied experiences of hetero-patriarchal capitalism. Dr. Henry's first book, Assimilating Seoul (University of California Press, 2014; Korean translation, 2020), which won a 2020 Sejong Book Prize in History, Geography, and Tourism, addressed the violent but contested role of public spaces in colonial Korea. Currently, Dr. Henry is at work on two books (volume 1: 1950-1980; and volume 2: 1980-1995) and a co-produced documentary that center understudied, "queer" dimensions of authoritarian development in Cold War South Korea. These interdisciplinary projects explore the ideological functions and subcultural dynamics of non-normative sexuality and gender variance in connection to middlebrow journalism and urban entertainment, anti-communist modes of citizenship and hetero-patriarchal labor, in addition to bodily autonomy and personal health in the contexts of the global "sexual revolution," gender confirmation and intersex struggles, and ongoing stigma against HIV/AIDS. A piece of this research appears in his edited volume, Queer Korea (Duke University Press, 2020; Korean translation 2021). At UCSD, he is an affiliate faculty member of Critical Gender Studies and Science Studies. From 2013 until 2018, Dr. Henry served as the inaugural director of Transnational Korean Studies, the recipient of a $600,000 grant from the Academy of Korean Studies as a Core University Program for Korean Studies.