Modernity's Double Project and Nation-Building Korean Style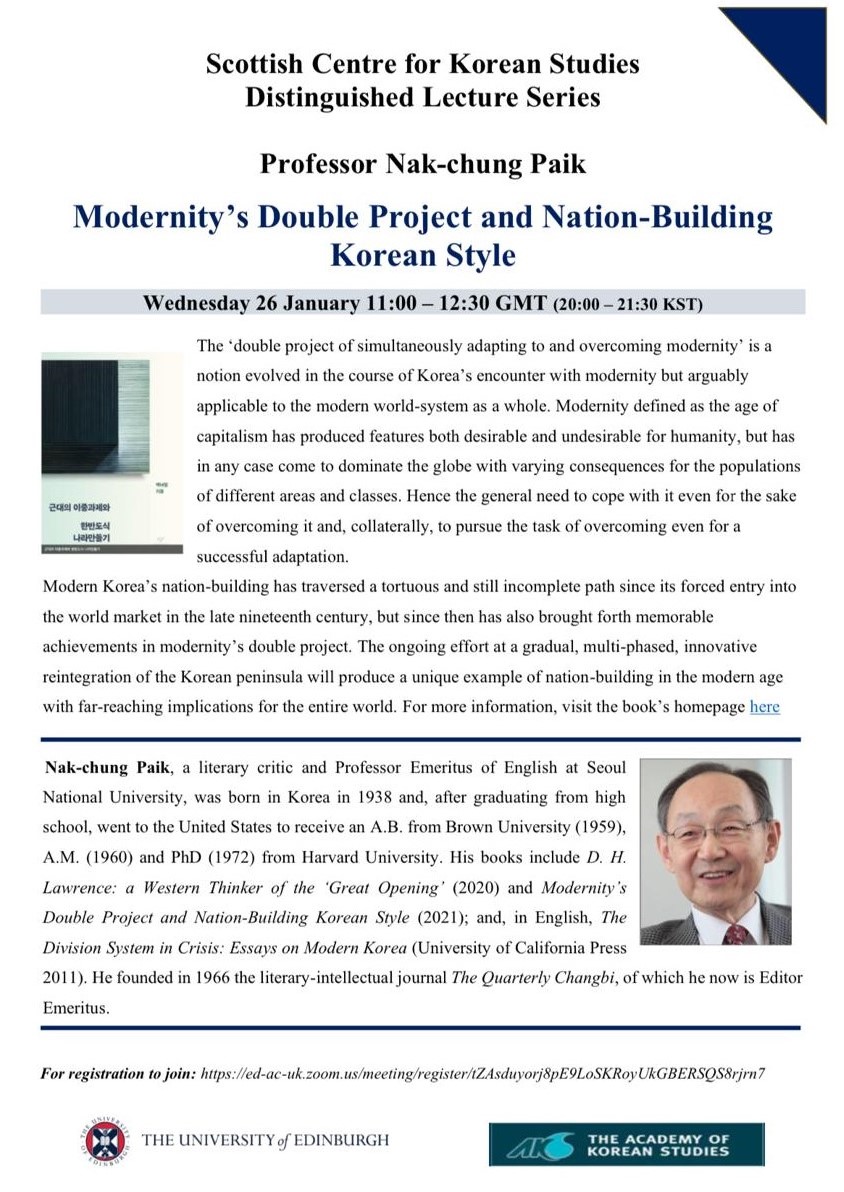 As part of the Scottish Centre for Korean Studies' Distinguished Lecture Series, Professor Nak-chung Paik discusses Modernity's Double Project and Nation-Building Korean Style, a book which focuses on the 'double project of simultaneously adapting to and overcoming modernity', a notion evolved in the course of Korea's encounter with modernity but arguably applicable to the modern world-system as a whole. Modernity defined as the age of capitalism has produced features both desirable and undesirable for humanity, but has in any case come to dominate the globe with varying consequences for the populations of different areas and classes. Hence the general need to cope with it even for the sake of overcoming it and, collaterally, to pursue the task of overcoming even for a successful adaptation.
Modern Korea's nation-building has traversed a tortuous and still incomplete path since its forced entry into the world market in the late nineteenth century, but since then has also brought forth memorable achievements in modernity's double project. The ongoing effort at a gradual, multi-phased, innovative reintegration of the Korean peninsula will produce a unique example of nation-building in the modern age with far-reaching implications for the entire world.
For more information on the book, please see here.
About the presenter:
Professor Nak-chung Paik, a literary critic and Professor Emeritus of English at Seoul National University, was born in Korea in 1938 and, after graduating from high school, went to the United States to receive an A.B. from Brown University (1959), A.M. (1960) and PhD (1972) from Harvard University. His books include D. H. Lawrence: a Western Thinker of the 'Great Opening' (2020) and Modernity's Double Project and Nation-Building Korean Style (2021); and, in English, The Division System in Crisis: Essays on Modern Korea (University of California Press 2011). He founded in 1966 the literary-intellectual journal The Quarterly Changbi, of which he now is Editor Emeritus.