Pyongyang's nuclear adventures are driven by Seoul and Washington
Glyn Ford
It is time to come to terms with the fact that the world is in denial about the realities behind Pyongyang's drive for nuclear deterrence. Its Intercontinental Ballistic Missile Programme (ICBM) and its compendium of nuclear tests are a demonstration of weakness, not strength; an answer to paucity rather than plenty. The image of the North as an irrational actor hell-bent on military adventurism and provocation is totally at odds with the concrete situation on the Peninsula. Yet there are none so blind as those that cannot see. This persistent vision of Pyongyang remains printed in Western thinking despite a South transformed by the unfolding consequences of the 1990's "miracle on the Han river."
Seoul's tiger economy transfigured a waif and stray into a global player. In lockstep with its burgeoning GDP, there was an endless ratcheting up of its military budget that saw South Korea leapfrog – in parallel with its civilian advance – into one of the world's top ten military powers. In contrast, an economically marooned Pyongyang barely stayed afloat, sinking back into 45th place with a budget in real terms on par with its spending back in 2000. Then, at the turn of the millennium, South Korea outspent North Korea by a factor of just less than three ($14B to $4.9B), and now Pyongyang's budget is estimated to be more than eleven times smaller ($4.5B to $50.0B). To put it even more starkly, Seoul's increase in defence spending in 2021 ($4.7B) exceeded North Korea's total military budget. Even in regional terms there has been a changing of the guard. In 2001 Seoul's military budget of $13B was dwarfed alongside Tokyo's $41B. By 2021 it was nip and tuck as Seoul's $50B closed on Japan's $54B for the year.
But it is not just quantitative. Seoul has turned from "taker to maker," from buyer to supplier of military hardware. For decades, Seoul busily rang the tills of Washington's Military Industrial Complex as it poured its military budget into the US providing massive financial out-relief to America's defence sector, with South Korean service personnel riding, flying and sailing US haulage equipped with American small arms and heavy weapons. Yet that all began to change as South Korea's industrial revolution trickled down into the military and civilian sectors.
South Korea's defence industry was preordained to build American-by-design, US-compatible weapons and equipment. After all, it was impossible to imagine a South Korean road to war without Washington. It started with the marginal, with the peripheral, but over the last decade South Korea's weapons production has gone from homespun to export, with Seoul increasingly seeing itself as a major player in the global arms market. The sales pitch is that now they can deliver NATO-attuned military hardware faster and at lower prices than the US.
A queue is forming. The EU's military shopping spree post-Putin's invasion of Ukraine – as it replaces last generation weapons systems gifted to Kyiv – can find quicker bargains in Seoul's gun shops rather than Washington's, with even a free nod in the direction of strategic autonomy. Between them, Poland, Finland and Estonia have committed $10B and more in purchases of South Korea's "dollar store" tanks and howitzers. President Yoon Suk-yeol in August acknowledged that Seoul was already at number eight in the global arms market and set a target for the South to catch and pass China in the coming years, with the aim of securing fourth spot. In contrast, Pyongyang's last recorded arms exports were to Niger, El Salvador and Trinidad and Tobago.
From Pyongyang's perspective, it has been outmanned and outgunned by the Seoul, Tokyo, Washington triad for a half century, but it believed it was in the game. The fate of Iraq, Libya and Syria, and the march of time and technology, has forced them to face the future, for in a sense worse is yet to come. The same threat will be there – if it is not already – from a solitary South Korea. North Korea already sees a quarter of its GDP swallowed by its military. Even a Songun "military first" policy has to live in the real world. The cheapest option – the nuclear one – is the only one to match their purse. Thus Seoul and Washington are the inadvertent architects of the North's nuclear deterrent and ICBM programme.
The ICBM programme now threatens to serve a second purpose. At the current rate of change, with Seoul contemplating its own nuclear weapons programme, the South is moving towards the capacity for strategic autonomy when any future US President unfurls the umbrella of extended deterrence. The positive for Pyongyang is its ICBMs keep Washington in the game, restraining adventurism from Tokyo or Seoul. But to allow the world to deal with the situation as is, rather than with shadows from the past, we have to face the cognitive dissonance that has been planted in our minds. Seoul is no longer weak, helpless, and faced with a rampant bellicose northern neighbour, but rather it is becoming a global power facing off against an unnerved debilitated rival.
Author Biography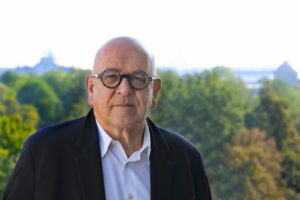 Glyn Ford was a Member of the European Parliament for 25 years (1984-2009). Serving on both the International Trade and Foreign Affairs Committees, particularly on dossiers related to Asia, he was a rapporteur for implementing the Scientific Partnership Agreement with the Republic of Korea. He was also a member of the Delegation for relations with Japan (1984-2004) and the Korean Peninsula from its creation (2004-2009). Since he left the EP in 2009, Glyn continued his political and academic engagement with the DPRK in the framework of his Brussels-based NGO Track2Asia. He has participated in the Political Dialogue with the International Department of the Workers' Party of Korea for the last 10 years and has visited the DPRK almost 50 times. Glyn has published two books on North Korea: "North Korea on the Brink" (2008) and "Talking to North Korea" (2018), both translated into Korean. He is also an active Member of the North East Asia Economic Forum as well as a Board Member of the Pacific Century Institute.