North Korea and the Geopolitics of Development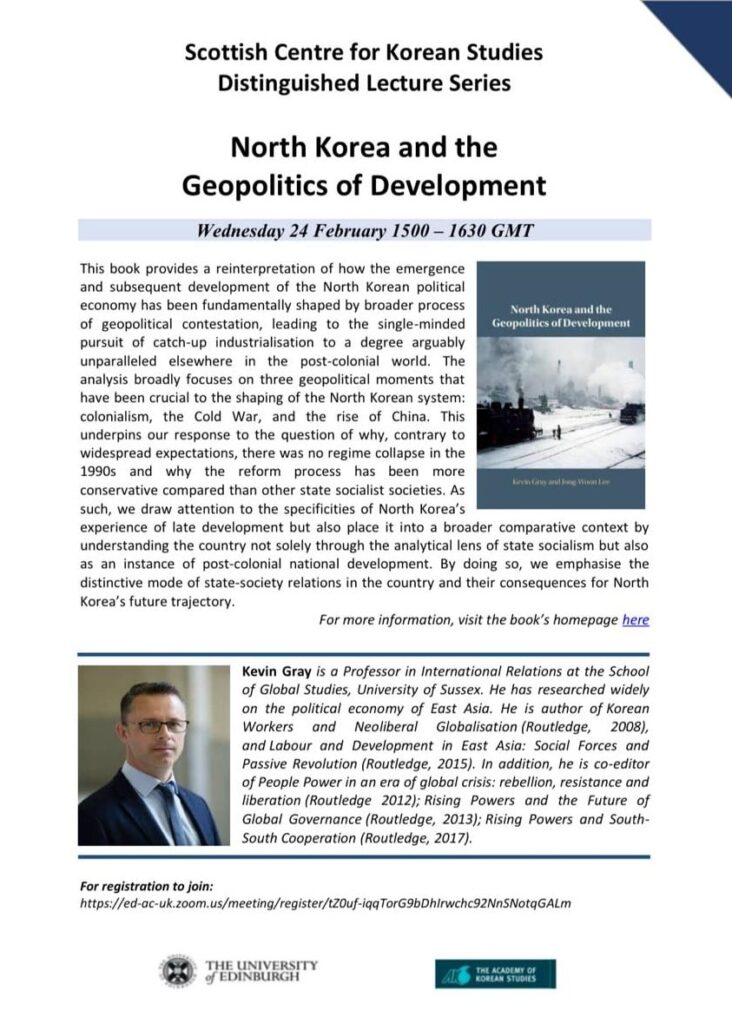 As part of the Scottish Centre for Korean Studies' Distinguished Lecture Series, Professor Kevin Gray discusses North Korea and the Geopolitics of Development, a book which provides a reinterpretation of how the emergence and subsequent development of the North Korean political economy was fundamentally shaped by broader process of geopolitical contestation, focusing on three geopolitical moments that have been crucial to the shaping of the North Korean system.
For more information on the book, please see here.
About the presenter:
Kevin Gray is a Professor in International Relations at the School of Global Studies, University of Sussex. He has researched widely on the political economy of East Asia. He is author of Korean Workers and Neoliberal Globalisation (Routledge, 2008), and Labour and Development in East Asia: Social Forces and Passive Revolution (Routledge, 2015). In addition, he is co-editor of People Power in an Era of Global Crisis: Rebellion, Resistance and Liberation (Routledge 2012); Rising Powers and the Future of Global Governance (Routledge, 2013); Rising Powers and South-South Cooperation (Routledge, 2017).