East Asia in the World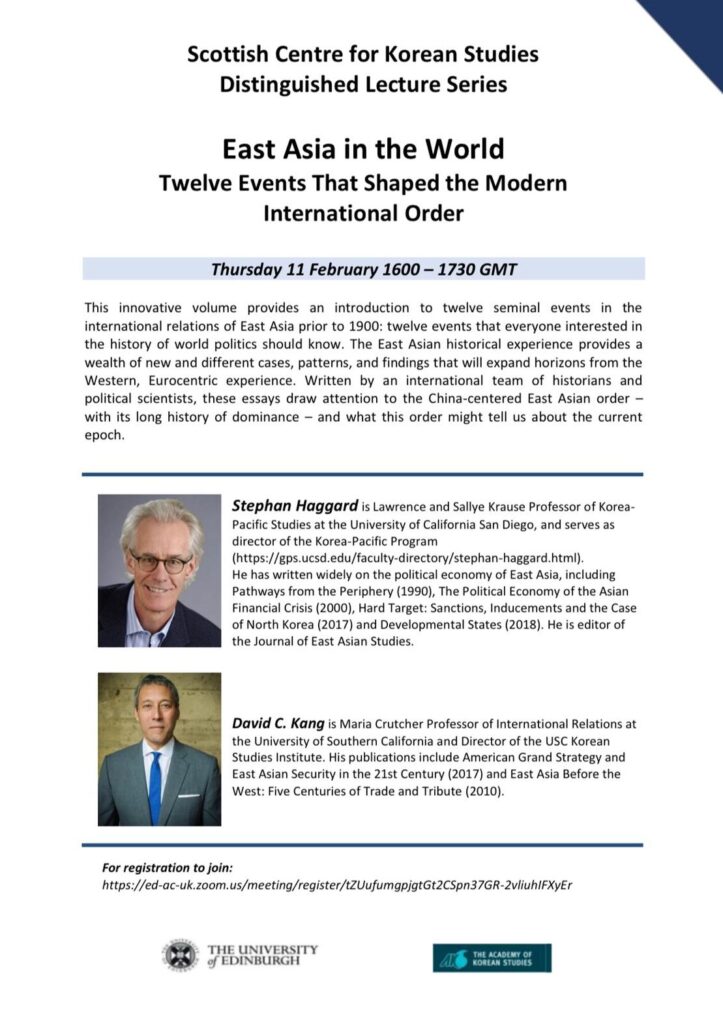 As part of the Scottish Centre for Korean Studies' Distinguished Lecture Series, Professor Stephan Haggard and Professor David C. Kang discuss East Asia in the World: Twelve Events That Shaped the Modern International Order, an innovative volume that provides an introduction to twelve seminal events in the international relations of East Asia prior to 1900: twelve events that everyone interested in the history of world politics should know. The East Asian historical experience provides a wealth of new and different cases, patterns, and findings that will expand horizons from the Western, Eurocentric experience. Written by an international team of historians and political scientists, these essays draw attention to the China-centered East Asian order – with its long history of dominance – and what this order might tell us about the current epoch.
For more information on the book, please see here.
About the presenters:
Stephan Haggard is Lawrence and Sallye Krause Professor of Korea-Pacific Studies at the University of California San Diego, and serves as director of the Korea-Pacific Program. He has written widely on the political economy of East Asia, including Pathways from the Periphery (1990), The Political Economy of the Asian Financial Crisis (2000), Hard Target: Sanctions, Inducements and the Case of North Korea (2017) and Developmental States (2018). He is editor of the Journal of East Asian Studies.
David C. Kang is Maria Crutcher Professor of International Relations at the University of Southern California and Director of the USC Korean Studies Institute. His publications include American Grand Strategy and East Asian Security in the 21st Century (2017) and East Asia Before the West: Five Centuries of Trade and Tribute (2010).