Second GeoLocation in Learning and Teaching Event hosted by the School of GeoSciences: Tuesday 9th June
Second GeoLocation in Learning and Teaching Event hosted by the School of GeoSciences: Tuesday 9th June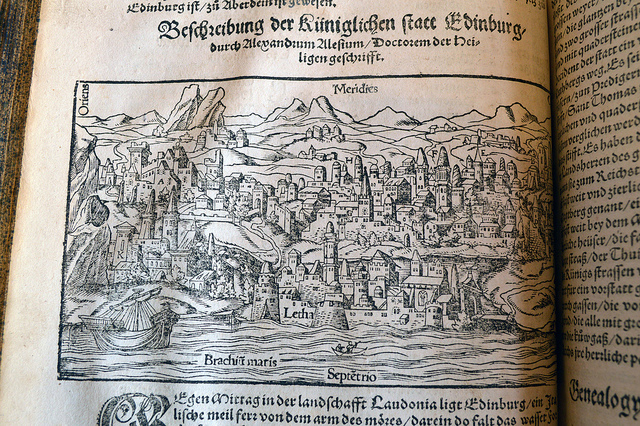 In February this year I organised the first GeoLocation in Learning and Teaching Event as part of the Social and Cloud based Learning and Teaching Service and was pleasantly surprised at the level of interest and enthusiasm. You can read all about this session in the accompanying blog post.
I was very pleased when Owen Macdonald, GIS Support Officer in GeoSciences contacted me to ask if we could work together on a follow up event which took place on Tuesday 9th June.
In this post are brief summaries of the presentations and links that the presenters have kindly shared:
Our first speaker was Anna Groundwater from History discussing digital mapping and history, she began by reassuring everyone that 'it's okay not to be a specialist in GIS and digital mapping.
She described the value of digitization and historical mapping within the History discipline and explained how they approach teaching students the potential uses and theories around maps and mapping.
This link will open a PDF of  Anna Groundwater's presentation which includes fantastic examples, resources and links (will open in a new window).
She introduced the idea of deep mapping or thick mapping where maps are augmented with additional data, e.g. layers of geographic information, images, chronology which can create richer artefacts for study and can bring new insights from analysis.
I was particularly drawn by the comments on the theory of mapping, Anna spoke of encouraging students to rethink the western oriented mapping of spaces to capture something of the human or of human behaviour within maps. She says 'Mapping is not static, it's a process, to tell a story' and "GIS is not just a software tool, but an 'approach to scholarship".
Bruce Gittings from GeoSciences then described 'Teaching with The Gazetteer for Scotland'. For those unfamiliar with the term, a gazetteer is a geographical directory used in conjunction with a map or atlas, and in fact the 'Gazetteer for Scotland' began as a project to update the six volumes of Groome's Ordinance Gazetteer of Scotland (1885), and was originally envisaged as a book.
Appearances can be deceptive, the Gazetteer for Scotland, with its slightly dated interface (Bruce has been working on this project since 1995) might appear basic but behinds it's simple exterior there is a wealth of information, functionality and teaching and project opportunities for students.
Bruce encourages students to engage with the Gazetteer for Scotland as part of their student projects from researching and writing entries to developing site functionality – with only the best work making it to the live site. He showcased an impressive tool which allows you to generate a PDF Guidebook for any area with information drawn from the Gazetteer of Scotland.
Please see the PDF of Bruce Gittings presentation for further details (will open in a new window).
Next, Carol Blackwood from EDINA showcased Digimap for Schools  which is a subscription service that provides access to Ordnance Survey maps to primary and secondary schools across the UK. It's a web based service, therefore schools don't need to manage any software instillations. It's aimed at students aged from 8 to 14. It includes additional tools to annotate maps and resources written by curriculum experts. It is also available to teacher training courses within institutions.
Mikaël Attal from GeoSciences demonstrated tools for topographic analysis for GeoSciences undergrads. GIS tools are used throughout the undergraduate programmes and Mikaël discussed the approaches used to support students who use them. He explained that combining geographical information with topographical gave another way of understanding what is happening in the landscape. He has produced many useful handouts which can be found on his webpages.
Here is a link to a PDF of Mikaël Attal's Presentation (will open in a new window).
The afternoon was closed by Tom Armitage also from EDINA who demonstrated the FieldTripGB App. After downloading the App to our devices (it's available from the Play store for android or iTunes App Store for Apple) we had a very short field trip – to capture information about all of the professors who's portraits were displayed round the lovely 'Old Library' room where the event was held.
The tool allows you to design a data collection form via the FieldTripGB website and then your students can complete this on their device, these can then be uploaded to Dropbox to collate. The App really lends itself to crowdsourced data collection projects. There will be a new release of FieldTripGB soon, and we were advised to follow the @FieldtripGB twitter account for updates.
As the afternoon came to a close, I left this event with new insights into the useful GIS technologies that are embedded in both GeoSciences and History programmes and in the approaches used to share these with students.
I'm very grateful to Owen MacDonald for suggesting this event, and bringing together such an interesting group of speakers. Thanks to all to the speakers and attendees it was a most enjoyable event. We hope to bring together another event on this theme at the starts of next year so please do get in touch if you'd like to get involved.
Further Information:
About The School of GeoSciences:
In the School of GeoSciences we explore the factors and forces that shape our world. We aim to develop a better understanding of the coupled Earth System, that is, the interactions between the Earth's geosphere, atmosphere, oceans, biosphere and cryosphere, the drivers of variability and change, and the roles and responses of humans in this complex interplay. With over 370 academics, researchers and research students, we are the largest grouping of geoscientists in the UK. Research activity is currently coordinated within three main Research Institutes – Global Change, Earth and Planetary Science, and Geography and the Lived Environment – and within many smaller research groupings that may reach beyond the School.
About GIS and Digital Mapping within GeoSciences:
While mapping and spatial data are used throughout the School the bulk of GIS activity, including specific GIS teaching and research, can be found within Geography in Drummond Street which houses the School's GIS Group. The Group are responsible for a cluster of MSc degrees including MSc GIS (taught and research degrees), and MSc GIS and Archaeology and have up to 30 years of experience in GIS! The School also employs a full-time GIS Support Officer primarily focussed on supporting these MSc degrees (e.g. practical development and delivery, teaching/learning support) but also providing a level of teaching and research support across the wider School to staff and students.
About GIS and Digital Mapping across UoE:
A level of consultancy and support are provided University-wide by EDINA, such as GIS training for non-geosciences staff and postgraduates.
EDINA is the Jisc-designated centre for digital expertise and online service delivery at the University of Edinburgh and may be familiar to you due to their extensive range of online services. EDINA runs the Digimap services which are an invaluable source of geographical/geospatial data to Higher Education
Share