Glimmer of hope X
When will we know the coronavirus battle is over?
Part X of Glimmer of hope. (16-April-2020)
Summary
Planning a road map to reopening economies is not going to be easy. Lives have to be weighed against livelihoods. Hubbert's peak-oil mathematics can offer a helping hand. It can help distinguish an emerging 2nd peak (requiring a re-tightening of restrictions) from minor, short-term fluctuations in infections and death rates (allowing a continued easing of restrictions on movement, travel and work).
Australia and Singapore
A fascinating article in the Guardian examines the Covid-19 exit strategy for  Australia and Singapore. Two snippets caught my eye. First
"The risk of relaxing too early. There is danger in complacency. Singapore, for weeks the darling of international comparison, the exemplar of how best to suppress the Covid-19 pandemic, has since seen a dramatic spike in the number of infections..."
The newspaper article did not show the data for Singapore. A plot of the infection rate data for Singapore (below) does not really support the idea of a 'surge' or 'spike'. To me the plot looks like the start of a classic exponential rise towards Singapore's first peak. Currently there is too little data to estimate the height and likely timing of the peak. It will be interesting to see how Singapore will cope.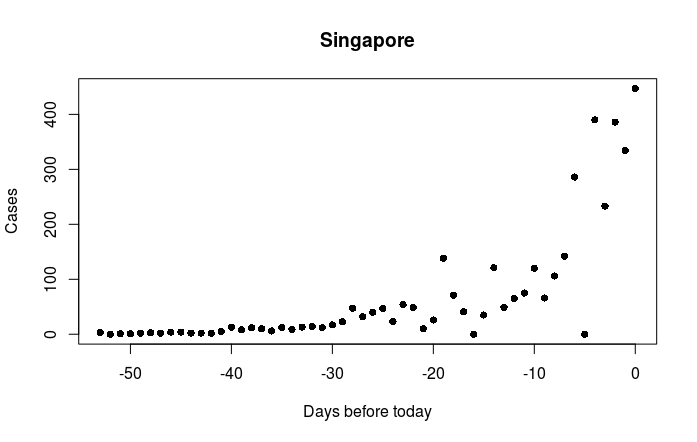 Calibration Secondly, policy makers and health officers are fond of the word "calibrate" in connection with Covid-19. Two quotes from the same Australian Guardian article give us
"policymakers … need to determine a … calibrated, step-wise approach" and
"the only way … is to watch what's happening and calibrate the response according to what's happening"
But what does calibration actually mean? And how can it be achieved?
Italy
The time series of Italian deaths, up to today is plotted below. I hope to use it to illustrate how peak-oil maths can help 'calibrate', or at least distinguish between various Covid-19 scenarios. Italian deaths over the last week are plotted in red. Do these seven data points reveal the start of a second peak? Or do they 'just' represent a slowing of the rate of decline? Or are they merely part of a short term fluctuation that will soon pass?
Imagine you are the Italian health minister. Some 30,000 additional lives will depend on your 'calibration' of the current Covid-19 situation. In short, are those seven red dots a blip, a slowing trend, or the first dreadful indications of a 2nd peak. You need to decide quickly! There is precious little other data to help you calibrate. In fact you need to decide right now. So before scrolling down any further, what is your decision? I wonder if it will be the same as mine.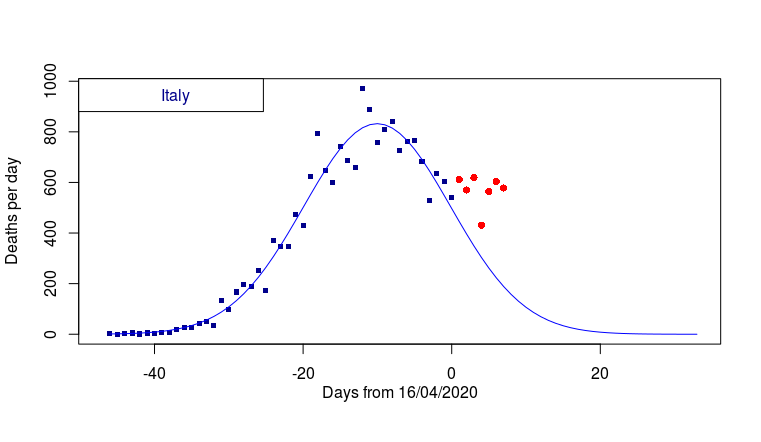 Ok, let's try some geostatistics. Our first model attempt (above) showed an empirical fit using data up to one week ago (ie the time period representing the first peak). At first sight the misfit with last week's data (the red dots) looks rather worrying.
Now (see model 2, below) let's move on and fit all the death rate data right through to today. Model_2 looks slightly more hopeful. However, the high death rates over the last three days suggest extreme caution should still be exercised. But is the blue curve of model_2 truly a good fit? To be honest I've seen better fits in my life.
Can we do better? Let's try adding one final model parameter. Let's allow the third model (final graph) to select a different rate of decline compared to the rate of increase.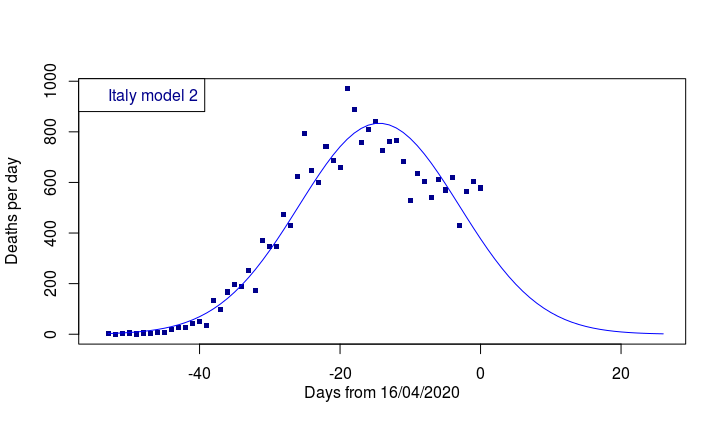 And so, at last, we arrive at model_3. To me this looks like a very acceptable fit. The Italian health minister has an easy task. Her calibration exercise is over. There is no need to re-close the Italian economy. She can even advise  hospitals on an updated estimate of how many deaths (per day) can be expected over the next thee weeks.
In brief, my assessment is that the Italian data is starting to display a slower rate of decline than rise. There is no need to further close the Italian economy. Deaths of over 200 people per day will continue in Italy for a further fortnight. The total number of expected Italian deaths during the phase 1  (the area under the blue curve in model_3) is 23,947.