Justin White completed a summer internship with the Equality, Diversity and Inclusion (EDI) team at the School of Physics and Astronomy where he created engaging digital communications focusing on the experiences from some of our underrepresented communities.  In this article he shares feedback on the role and the importance of the work he undertook. Justin is currently studying for a BSc in Ecological and Environmental Science at the University of Edinburgh.
---
Tell us about the Employ.ed on Campus student internship role. What did it entail?
Our internship really focused around one goal, to curate a physical exhibition in the JCMB promoting equality, diversity, and inclusivity. With this I really appreciated how my co-intern Ray and I were given the liberty to focus on what we thought would be best for the School, and while we were quite ambitious with our goals I am pleased with how much we accomplished.
While Ray focused on decolonising the curriculum, I chose to perform a set of interviews within the school highlighting the experiences and research of those who belonged to underrepresented communities. Some of these ended up being over 3,000 words long, and a few of them will even be published on this very blog! But, their main purpose was to form part of a bigger campaign on social media, which I've provided a sneak peak of below: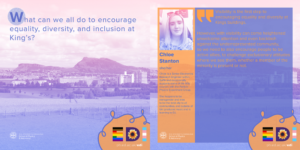 There were many other things to mention too that I hope people will see pop up over campus, including a new logo and rebrand of the EDI Department, as well as the publishing of statistics on gender and ethnicity on the EDI webpage. All exciting things!
What attracted you to this role? Why is it important for the School community to work on and engage with EDI initiatives?
Coming from such a diverse place as Los Angeles, Edinburgh shocked me in many ways, but largely for the fact of how—let's face it—undiverse it is as a University. Now Edinburgh isn't solely to blame for this, but it could be doing a lot more to promote equality, diversity, and inclusion, and that goes for the School of Physics and Astronomy as well!
I was attracted to my internship for this reason, along with the fact it would be a great opportunity to bolster my skills in graphic design and be a beneficial use of my time when not much else was going on. In that respect, I do actually feel very grateful to have received the position!
What skills did you learn/develop during the post?
Spending time on Adobe Photoshop, InDesign, and Illustrator developing the aesthetic side of these campaigns in EDI definitely ate up a lot of time. However, what I wasn't expecting going into the internship was developing my confidence in interviewing and speaking to my superiors.
As an undergraduate it can seem that the PhD students and academic staff are at a distant and separate level of academia, one which I would never interact with. However, all of them have been an undergraduate at some stage, and are more than willing to talk about their research and non-academic matters! In fact, they'd probably quite enjoy it if an undergrad asked one or two more questions than they normally would.
Were there any particular challenges that you faced during the internship? If so, how did you do to overcome them.
It seems a cliché now, but COVID has been a challenge for everyone recently. Having to wake up at 4am for a meeting while still at home in Los Angeles was of course a challenge, but more so was the fact I couldn't, and still haven't, been inside the JCMB where our displays will to be put.
What did I do? Well Ray and I both agreed it would be best to shift our campaigns digitally, which is why everyone will get to see our work spread out across all the School's social media pages and on this very blog. Yet that still left the problem of what to do as a physical display! Thankfully, it was arranged that two new plasma screens would greet students and staff on the second floor, which had my project's name on. So, when you are next in the JCMB (whenever that may be) watch out for them!
What advice can you give other students who might be considering applying for an Employ.ed intern post?
All the Employ.ed intern posts are 10 weeks, which may sound like a lot but in fact goes by very quickly when you're actually working. It is a perfect opportunity to try something a little out of your comfort zone, and if it's not for you then there's no commitment to do it for any longer. But, as in my case, it turned out to be wonderful and can be a great learning experience which is adaptable to all sorts of work! If you're feeling uneasy about whether applying, I'd say just go for it!
Links and resources
Justin's social media campaign can be found on Facebook, Twitter and Instagram.  Search via #PhysAstroEd_EDI.
Read the interviews conduced by Justin.
Check out the resources created by co-intern Ray. (URL to follow!)
Learn more about the work of the Equality, Diversity and Inclusion team at the School of Physics and Astronomy.
Learn more about Employ.ed on Campus internship opportunities.