From 25th to 29th September 2023, I'm taking part in strike action called by UCU over a long-running dispute about pay and working conditions.
You can see more about the reasons for the dispute from UCU, and from Edinburgh's own Staff Student Solidarity Network.
For me, one of the main reasons is the way that pay has been eroded since 2009 (which happens to be around the time I started working for the University of Edinburgh).
This chart will be familiar to colleagues in the School of Mathematics, since I stuck it up in our common room above the sink! It shows the starting salary for a Lecturer, and for a Reader (the next grade up), and how these have been increased each year by employers since 2009. I picked these job titles as examples, but the same pattern is true for other types of roles too.
The chart also shows what would have happened if employers increased the salaries each year to keep track with inflation (the RPI version of it):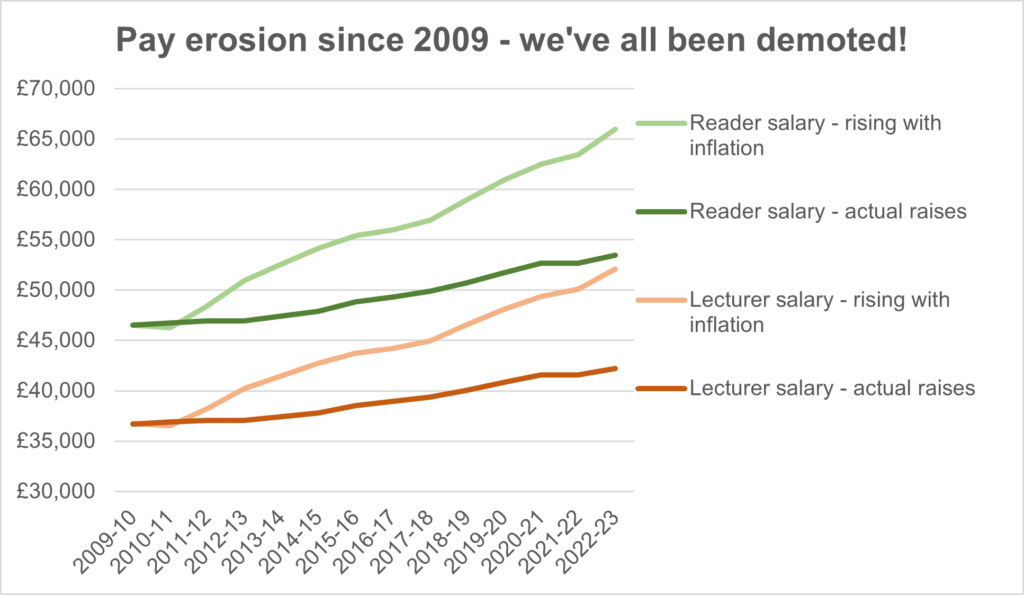 The key things I take from this chart are:
actual pay rises have not kept track with inflation, so
the Reader is now being paid what the Lecturer would have been paid if employers had raised pay in line with inflation.
So – pay has been gradually eroded over the past decade or so, to such an extent that university staff are now effectively demoted by one grade on the salary scale.
If all university staff were demoted by one grade overnight, I'm pretty sure there would be outrage! That's what I feel looking at this data, showing that we've been demoted gradually over many years.
The current dispute is about the pay increase for 2022/23. UCU has asked for an increase of RPI+2% for that year, which would go only a little way to closing the gap. Employers have imposed an increase of 5% and refuse to discuss it any further.
A second reason for me taking part in the strike is to show my disappointment with senior management. I know I'm not alone in this – in the recent Staff Engagement Survey, just 23% of staff agreed with the statement "I have confidence in the university leadership". In the College of Science and Engineering (where I work), it was just 12% of staff.
The dispute about pay is a national one, and our Principal, Peter Mathieson, has pointed to the affordability of pay increases across the university sector as a reason for not supporting inflation-matching pay rises for his staff.
I reached out personally to the Principal on 30th May to ask:
You point to how some institutions may be unable to afford a larger pay increase than the sub-inflationary one that has been imposed. What are you doing as a leader in the sector to resolve this? Our sector should be strong enough to support pay rises in line with inflation!
I've not asked permission to share his reply, so I won't – but in essence it was: "what do you propose?" I found this shocking. I thought he was supposed to be providing the strategic leadership, in return for his £400k+ salary! It's not even like this is a one-off issue that could have caught management by surprise – as the chart shows, it's a systemic issue. Why are management content to do nothing about this year after year?
Senior management have also turned down an opportunity to stop the strikes in week 2 of our semester. The local UCU branch offered to cancel the strikes in return for restoring pay that had been withheld from colleagues taking part in the marking and assessment boycott (and who are now being asked to complete the marking since the boycott has ended). The offer from UCU was refused by management. Meanwhile management are painting a different picture for students (emphasis mine):
"we hope to minimise disruption to our students in the future as much as possible" (Peter Mathieson, Principal and Vice-Chancellor, in an email of 18 September)
"For those of you who are awaiting awards and/or marks, we're doing all we can to make sure that your assessments are marked as soon as possible and returned" (Colm Harmon, Vice-Principal Students and Lucy Evans, Deputy Secretary Students, in an email of 7 September)
Those words sound hollow to me, in light of management's decision to refuse UCU's offer on 18 September – which has the effect of knocking out 5 working days when colleagues could be getting on with teaching semester 1 courses and dealing with the backlog of marking.
If you're a student, please let University management know what you think by emailing the Principal, Peter Mathieson (principal@ed.ac.uk) and/or Vice-Principal Students, Colm Harmon (Colm.Harmon@ed.ac.uk).
If you're a colleague who's not already in UCU, it's never too late to join the union!