I'm working on a paper just now about my online course, Fundamentals of Algebra and Calculus. I'd like to include a high quality screenshot to show what the online course materials look like, and have finally found "one weird trick" that makes it easy!
I learned about this from a bit of googling, which led to this guide to producing a screenshot as a SVG (scalable vector graphic).
Based on that, here's an easy way to take a screenshot as a PDF:
Using Chrome, on the page you want to screenshot, open the developer tools (e.g. by right clicking the page and choosing "Inspect")
Click on the "…" menu at the top right of the developer tools window, then choose "More tools" > "Rendering". This should open a new pane with various options.
Set "Emulate CSS media" to screen
Now when you go to print the page in Chrome, and choose "Save as PDF" for the printer, you will get the webpage as it looks normally, rather than the special printer-friendly style.
For the page I was saving, I found that setting the paper size to A2 gave good results. I also set Margins to "Custom" and made the page slightly narrower. I think you just need to play around with the page size, scaling and margins until you are happy.
I also used the developer tools window to tidy up the page a little, e.g. deleting some irrelevant navigation boxes, and instructor-only tools.
Et voila!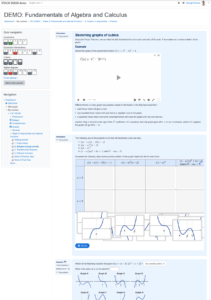 Screenshot_Polynomials-3-2-3_sketching-cubics