Do you want to learn more about LGBT+ youth suicide? Are you keen to think about practical strategies for prevention? Do you want to meet others who are interested in doing similar work? Come along to our event on the 24th November 4-6pm to find out more!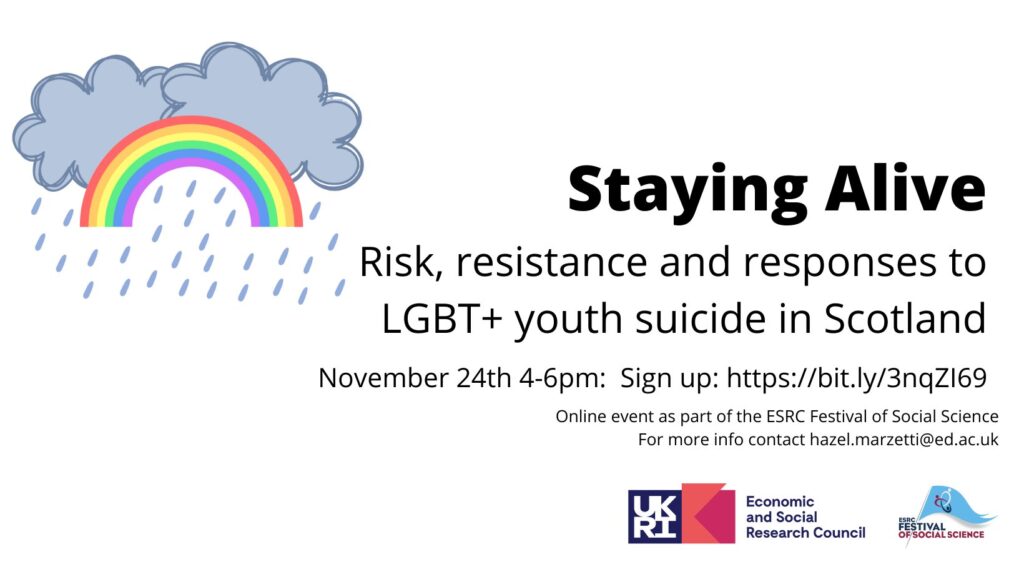 Globally suicide is the fourth leading cause of death amongst young people aged 15-29, and here in Scotland research indicates that one in nine 18-34 year-olds have attempted suicide. Amongst this young population lesbian, gay, bisexual and trans young people are estimated to be somewhere between three and four times more likely to think about and attempt suicide globally. This said, less is known about LGBT+ young people's experiences of suicidal distress in the UK as data is not systematically collected about young people's sexual orientation, trans identity nor suicidal thoughts or attempts. As a result, there is very limited research data helping us to understand why LGBT+ young people are more likely than their cisgender, heterosexual peers to think about, attempt and die by suicide.
To begin to address this gap in our knowledge, between May and October 2019 I travelled all across Scotland (from the Borders to the Highlands and many stops in between) talking to LGBT+ young people who had experienced suicidal distress. Together we discussed what had contributed to suicidal distress and made suicidal feelings worse, what had helped them to feel better and prevented suicide attempts, and what they believed would reduce LGBT+ youth suicide in the future. A large part of this conversation related to the services available to LGBT+ young people and what helped and hindered their access to them.
We had lots of exciting plans about how we would communicate the findings of this research to a range of different audiences… and then the pandemic hit and made everything just that bit harder. This means that I am even more excited to be able to share our project's findings with you as part of the ESRC's Festival of Social Sciences next week! Our event Staying Alive: risk, resistance and responses to LGBT+ youth suicide in Scotland aims to both share the findings of our research and to think about what's next for suicide prevention amongst LGBT+ youths.
The event strongly encourages attendance from practitioners, services providers, researchers, and members of LGBT+ communities and their allies (no previous knowledge of LGBT+ youth suicide is needed, you just need to bring along your own personal and professional experiences). Together we will consider 'what's next?' for LGBT+ youth suicide prevention, providing space to talk about the practicalities and challenges of doing suicide prevention, and to think collectively about possible solutions as well as the support needed to do this.
If you would like more information about this event check out the Festival of Social Sciences event page: https://festivalofsocialscience.com/events/staying-alive-risk-resistance-and-responses-to-lgbt-youth-suicide-in-scotland/
Or to book onto the event, sign up here: https://www.eventbrite.co.uk/e/staying-alive-lgbt-youth-suicide-in-scotland-tickets-187718018647
We look forward to seeing you there!