Last month, I sat down (virtually) with Estifa'a and spoke about her experience navigating six years at the University of Edinburgh as a woman of colour, from her journey as an undergrad to a PhD student in the School of Physics of Astronomy. What follows is a complete interview of what we talked about during that hour, with everything from her love of teaching to privilege and intersectionality, and what we can all do to promote a more diverse University.
By Justin White
---
Justin: Hi Estifa'a, thanks for taking the time out of your schedule for this interview! If you could give an introduction to yourself, please?
Estifa'a: My name is Estifa'a. I am a first year PhD student in the Particle Physics Experiment department, I actually did my undergrad at Edinburgh as well, so I've been here for like six years. Hence, the few activities I've been involved with because it's been a while. I also TA (act as Teaching Assistant) on Relativity, Nuclear, and Particle Physics, so I do the Relativity and the Particle bits, and I also TA Computer Simulation and the introductory programming course for first years.
J: That's seems an awful lot.
E: I really enjoy teaching, so I don't mind it. It's not too difficult, it's kind of like my area that I feel okay and pretty confident with and I haven't really branched out to any other courses.
J: That's good to know!
E: Outside of physics I organise with a few others the STTEPS programme, which is the Syrian tutoring programme and I'm really involved with the Islamic Society, I was president in my 2nd [UG] year, and since then kind of stayed on with them as they have good events and stuff. All over the place!
J: Yea it's what a university student does! So, the final thing I would like to ask as well is which communities do you identify with?
E: I fall under two of them, women and BAME, those are my two communities.
J: You said you were a 1st year PhD student, and PhD's are three and a half years, is that correct?
E: Mhm, yea.
J: Would you already have an idea of your research then? To a student who's not in physics, or to a first year who's just starting physics could you explain your research?
E: So, I am a part of  Open3gen, a group of Postdocs and PhD students who are with the ATLAS experiment at the Large Hadron Collider (LHC), where they basically smash protons together.
And so within that the Open3gen group we are specifically searching for particles that have longer lifetimes called long-lived particles. They will travel through the ATLAS detector a bit longer than normal particles that we are used to so their detector signatures will be a bit different. So, we are looking at developing algorithms and analysis techniques to be able to search for specifically long-lived particles that decay into tau [a lepton particle in the standard model], which is my job!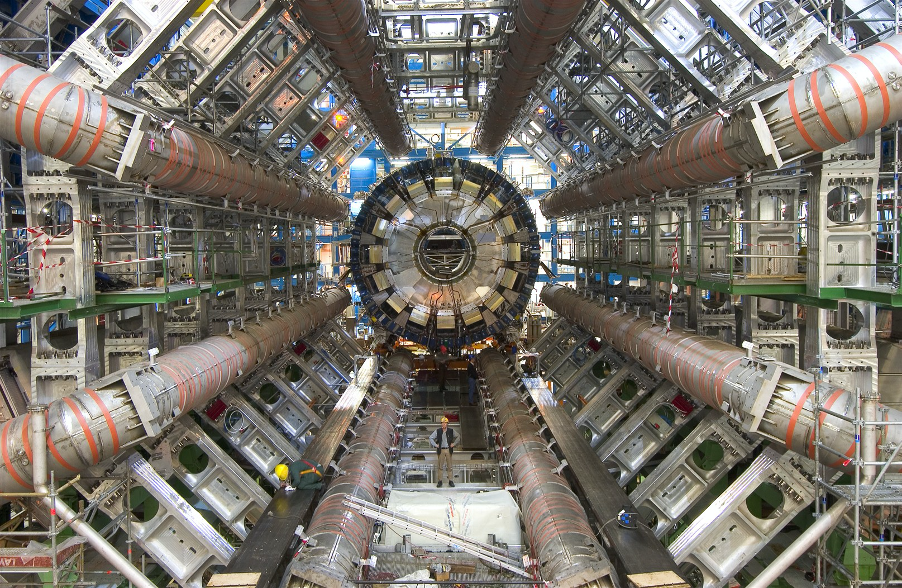 J: It's really ground-breaking stuff, and some mention this idea of creating a new form of physics, is that what the future holds for your research?
E: I think it's kind of interesting, especially in the particle physics field, because you are always trying to push for new technologies and new ways of finding particles that may or may not be there.
J: Very cool! Now I'm interested in your success story at Edinburgh, going from a UG, to a masters and a PhD. If you feel comfortable talking about it, do you think you've faced any barriers for your entry into the School at any of these times?
E: "I think the biggest thing and the thing I am trying to advocate for is just that if you enter a community of people that doesn't look like you it is quite difficult and a lot of people don't seem to grasp that it does make a difference when a department isn't diverse."
And that was the reality when I entered UG, there was no one who looked like me and that feeling of being out of place was definitely there. It feeds into a lot of other things, like 'am I meant to be in this community of people because there are no other people like me,' obviously it's a system that wasn't designed to cater for me. A lot of these challenges would have been solved if we just had a bit more of a diverse P&A department.
Part of being a woman is the lack of confidence in operating in a majority male field and the imposter syndrome a lot of women talk about, and that is something I felt pretty much all the way through my UG and masters. I think it wasn't until I realised that I had to make a conscious effort to seek out other female professors to supervise me that made all the difference. I still say this now, that if I hadn't had Victoria Martin for my masters degree…
J: Oh yea! She's my supervisor she's amazing and so lovely.
E: …but if I didn't have her I wouldn't be doing a PhD.
J: That leads me on to my final question about your research and your career in academia, what piece of advice would you give to someone in your position and might face the same challenges as you?
E: I would say it's really important to claim space. That's the thing I really didn't realise until the very end. I was almost apologising for my existence of being in that department because I felt almost like somebody had made a mistake. Because you're looking around and you're like, 'hey it's just me I'm going to have to navigate this space.' Say what you need, if you need extra services, if you have certain demands, if you think those things will help you, go out and find those things.
At least from a BAME perspective, people kind of have this weird notion of colour blindness where people come from a really good place where they say, 'I'm not going to treat anyone differently based on the colour of their skin.'
But in fact, what is needed is to not be treated the same.
"There are certain things that BAME students suffer from that need to be acknowledged as specific to them in the same way that there are things that women suffer from."
J: I think it's really important for everyone regardless of ethnicity, gender, sexuality, disability, to realise that catering to one communities needs does not take away from one's own needs, and that needs to come across. In this respect, would you say being black and a woman brings a new perspective to SoPA?
E: I have a different perspective because I have a different life experience, in a way that other people, mainly white men, could never imagine.
Having more diverse people in any situation just provides different outlooks and different ways to problem solve, communicate, and speak to people, so the more diverse the department is I think benefits the people there because you have a different approach to things and you bring something else to the table.
But, on the other side of it, yes, I also have the ability to identify microaggressions, systemic racism, systemic sexism, in a way that nobody else can, simply because I feel it rather than just identifying with it from afar. It's an added burden that a lot of other people don't have to deal with.
J: Yea I completely agree with what you're saying, although ironically it's problematic because interviewing you and others is an example of this increased burden!
To move away from this, if you could change one thing about the James Clerk Maxwell Building (JCMB) what would it be?
E: I would probably knock the whole thing down and rebuild it. I'm not sure I'm allowed to say that!
J: Of course you're allowed to say that!
E: It's kind of big and people get lost in it…
J: I've gotten lost in it… *chuckles*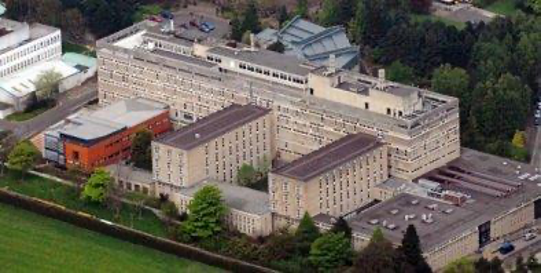 E: …the more core issue isn't about the building but about the fact that I think the School of Physics and Astronomy (SoPA) more than a lot of other schools lacks a sense of community.
"Throughout the years I've always identified people that have been left out, who wander alone, and we just assume it's because we're physics people and we're nerds and we don't like talking to people as much, but sometimes it's because nobody's reached out to them and made sure they are part of a community."
Throughout the years I've always identified people that have been left out, who wander alone, and we just assume it's because we're physics people and we're nerds and we don't like talking to people as much, but sometimes it's because nobody's reached out to them.
That's the one thing I would really want to change, just for people to feel like they belonged to SoPA rather than having to go to other places; and I was lucky because I had other places and other societies, friends outside, humanities students, things I could get involved with.
J: I've heard if you're a woman or if you're not represented in the first place—even if there is a slight hint of a community—you feel intimidated and trapped out of SoPA almost entirely. I was wondering whether in the JCMB had you ever felt intimidated by men? Do you feel like your voice is not heard?
E: No, I don't think I've ever felt intimidated. But see, here is where intersectionality comes in. Being a black woman is a different perspective from being a woman.
And my ethnic aspect of it makes people treat me differently because of it. So, I've never felt intimidated, but I have felt the gender difference when it comes to being a TA (Teaching Assistant ) – it is easier to TA female undergraduates rather than male undergraduates.
J: Interesting!
E: This is a massive generalisation…
J: I take it as a generalisation.
E: …but I find my authority and sense of understanding is much more challenged.
J: Wow…
E: I'm always more unsure about what I'm explaining and feel that I am questioned more about what I know when explaining to a male student. Sometimes I walk away, and second guess myself when actually I do know that it is right, but I've just been made to feel a certain way. And that never happens when I'm TA'ing a female student.
I'm always more unsure about what I'm explaining and feel that I am questioned more about what I know when explaining to a male student.
J: That's really fascinating because often we look at power from the top down and sort of people in power abusing those not, but power can go the opposite way too.
 E: Well the social hierarchy still stands in a university setting, so regardless if theoretically I'm in a position of authority the power dynamics that play out in wider society still have a profound effect, because we don't teach in a bubble.
 J: In this way, what would be the best way the School could answer to the needs of underrepresented students?
E: I think it's two things. Representation is important, we just need more, it's not acceptable that we just have one or two black students in an entire cohort of that year, it's just not okay.
On the other side, currently we can make the most of the situation we have. We have a lot more women, but specifically for BAME students we can have catered mentoring schemes, PT's can be trained to reach out more to these students because there are so little of them, that actually you can have a 1 on 1 relationship with them and see how they are doing right now.
J: With these mentoring schemes, that might be one solution, but do you have any idea how to better foster a BAME community in SoPA?
E: I think there is a BAME community at the University level in terms that they are quite tied in, there's just not a lot of them. The sense of community is definitely there, but it's not there in SoPA as a symptom of the fact there is less of community overall in SoPA, everyone suffers from that.
Physics is one of those departments that takes the stance they just do physics and they don't get involved in world issues…
J: It's true they don't.
E: …which I think is problematic because you live in the world, you are some of the most powerful people in the world. You are in a university setting with some of the most educated people, and the fact that you are giving up your right to make a difference just seems ridiculous to me.
You are in a university setting with some of the most educated people, and the fact that you are giving up your right to make a difference just seems ridiculous to me.
 J: Definitely having these conversations, an open conversation, about racism, sexism, homophobia, transphobia, and ableism is that in your opinion the way to dismantle any negative stereotypes that may afflict underrepresented communities and how we bring about more representation?
E: I think a really important aspect of it is accountability, and we don't have that.  Just having that sense of accountability publicly is really important because then we can say, 'well Edinburgh University is one of the worst for admitting Black students.' We can't have those conversations if we don't have that information. Currently everyone is treating this like a side project, which isn't the case right?
J: We need a full-time individual and not just a summer intern. As a summer intern I don't think I'm the most well qualified individual to be doing stuff like this! *laughs*
E:  You're really good though right, because you're dedicating, and you're being paid to dedicate a substantial amount of time to do it.
I think it's all fine and well for us to want to do all these things but if we aren't willing to actually pay for somebody, put the funding in, then it kind of sends the message that this isn't important.
"It sends the message that EDI is a club that people can kind of pay attention to or not, as opposed to an integral part of the department, which it should be."
It sends the message that EDI is a club that people can kind of pay attention to or not, as opposed to an integral part of the department, which it should be.
J: If we don't have a person who is paid full-time to do this, change will be slow, but I definitely hope that in the future the School—and I mean Edinburgh is sitting on tons of money—hires someone like this. Let's just say Peter Mathieson's paycheck could pay for a person like this in every School in the university.
 E: For accountability purposes, it's so much easier to say this is your sole job, you're being paid for it, why isn't this being done and why is this being done? We don't have that right now and that's really hard to do.
J: Again, I completely agree. And I must say it's been great talking to you. If you have anything else to add you are more than welcome to email me in the coming weeks. I'll be in touch with the finished post and thank you very much again for doing this interview, it means a lot and it's been really interesting.
E: It's nice to know that somebody is interviewing people and making an active effort.
J: Good luck with any work you might be doing over the summer and I hope working from home isn't treating you too hard!
E: And you too!
About this interview.
This interview was conducted by Justin White as part of an initiative by the Equality, Diversity and Inclusion Committee in the School of Physics and Astronomy to highlight the research and experiences of staff and students of underrepresented communities, and was published with the written permission of the School, Interviewee, and Interviewer. Read all the EID interviews.
View the efforts of the Equality, Diversity and Inclusion committee at the School of Physics and Astronomy.
This opportunity was part of a Careers Service Employ.ed on Campus internship.
Justin is currently studying for a BSc in Ecological and Environmental Sciences at the University of Edinburgh.