By Maxim Oweyssi
Studying at Kings' buildings has become synonymous with constantly having to find new ways to get to class through the ever-evolving maze of holes in the ground and paths closed due to construction. But what's all the construction for?
In short, there's been a need for a major reshuffle at the KB campus for a while now. Our "young" part for the University is nearing its 100th anniversary, yet the mixture of the modern and historic buildings at KB seems to be erratically stitched together.
The solution? £48 million, and a new central piece of King's Buildings ought to give the whole campus village a fresh look, a mind of its own… a nucleus.
The project will evolve into a communal space with several large lecture theatres. These will replace the current, rather large, hole next to KB House. The addition promises to link the East and West parts of the campus.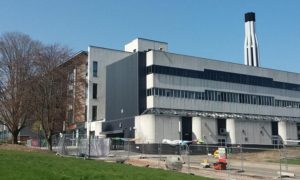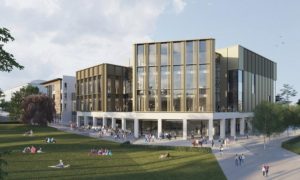 After completion of the Nucleus, work on the KB 'Masterplan' will commence – a long term campus project which will result in a redesign of the campus landscape and will involve further consultation with staff and students.  The plans include new green spaces, clear pedestrian routes and outdoor seating areas.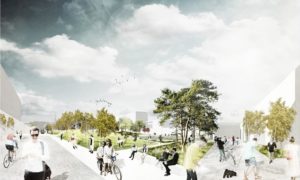 Matt, a 3rd year Computational Physics student described the problem aptly, saying that:
"it was about time the architectural feeling of KB caught up with the rest of Edinburgh!"
So hang in there as life in our part of the university is set to get noticeably prettier! And even if you're not a fan of the remake, at least there'll be several new lecture theatres and loads of study space.
Images:
– KB Centre
– Nucleus building (photo: Sheppard Robson Architects)
– Green spaces at KB (photo: HarrisonStevens Architects)