Online learning and the Fringe: going the distance
Online learning and the Fringe: going the distance
The posters are up. The streets are filled to the brim. Performers are eagerly handing out fliers left and right. Last-minute tech rehearsals are happening all over the city. It's August in Edinburgh.
That means we have multiples festivals happening all at once and an influx of people who are all here for one thing: to absorb this creative energy over the next month. This willing audience awaits the many writers who will discuss all things books, artists who will showcase innovative new work, theatre makers who dare to unpack the tough social issues of 2019 in the form of interpretive dance or comedy.
All of this activity has me pondering the similarities between online learning and the many festivals and fringe festivals happening throughout the capital. Trust me there is an analogy here that has some credibility!
As The Edinburgh International Festival states on their website, EIF aims to "[bring] audiences and artists together from all over the world.
For three weeks in August, Scotland's capital becomes an unparalleled celebration of the performing arts and an annual meeting point for people of all nations."
In many ways, the University advocates for online and distance learning for the very same reasons:
• to celebrate the innovative research and knowledge of our world-class academics;
• to entice audiences (read = learners) from all types of lived experiences with relevant and interesting subject matters;
• to democratise education for learners all over the world.
Both the festivals and the University, strive to offer their audiences choice and also celebrate the hard work that went into producing the final product or production.
At the University, there are many forms of online and distance learning on offer, giving learners the choice to select the best option for their interests and time commitments. Sounds pretty similar to the Fringe (if you ask me)! Whether it is a 3-hour epic retelling of The Bacchae or a ten-minute site-specific ode to Greyfriars Bobby, there is something at the Fringe and international festival for everyone.
Similarly, you can enrol in a MOOC and learn about 'Bonnie Prince Charlie and the Jacobites' or perhaps, an online MSc in International Development is of more interest you? In the case of MOOCs or our recently launched MicroMasters® in Predictive Analytics with Business Applications, you can choose to pay for the certificate track or audit each course. Again, like the Fringe, the University offers choice when it comes to online and distance learning and tries to ensure that minimal barriers exist when accessing this great learning.
Like many great performances, it takes a team of experts to create online learning courses and programmes. What the learner sees is only the stage production, so much of what makes the University's online learning innovative and exceptional is what happens behind the scenes. We have learning technologists, media producers, consultants and project managers working with academic colleagues to produce online learning that can go the distance!
So, like all good festival planning, take a seat, make a cuppa and explore all the great online and distance learning offerings provided by the University. We're confident you'll find a five-star production just right for you!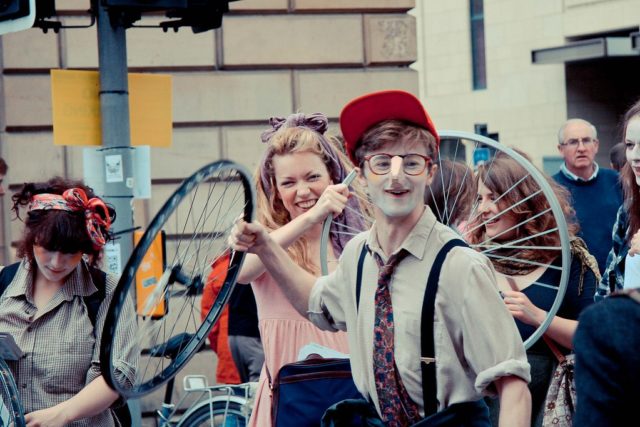 Edinburgh Festival Fringe 2011, Laura Suarez, Flickr (CC BY-SA 2.0).
(https://pixabay.com/service/license/)
Share