Learning & Teaching Conference 2019
Learning & Teaching Conference 2019
For a second year in a row, the University hosted the Learning & Teaching Conference. This year's theme was on evidencing the value of learning and teaching. With shades on, I headed off into the glorious Edinburgh sunshine to the John Macintyre Conference Centre to soak up some knowledge and hopefully share some (more on that later).
The day started off with an excellent keynote from Professor Peter Felton, on the transformative power of relationship-rich teaching and learning in higher education.
How does this work online?
How important is this for online learners/students?
At the end of the day, as long as you have access to what you need online, what does it matter?
Simply put how important is engagement? Whether through teacher to peer instruction, or peer to peer learning, outlining how students feel part of the bigger picture is an important consideration. Even as someone working in Learning & Teaching, this can be a major concern due to a lack of  traditional face-to-face instruction. What better way to get the cogs turning at 9.15am on a rare sunny Edinburgh morning!
After a short break and caffeine boost, a round of workshops/presentations continued throughout the rest of the morning, with some really insightful talks. I chose to attend a presentation on feedback by Peter Higgins and Robert Chmielewski. What was really interesting is looking at providing feedback before the grade and what this looks like when delivered online. Providing feedback on a student assignment then asking them to provide feedback and reflect on this before having a mark released to them, I have to admit at first, I wasn't too sure if students would necessarily take to this. Logic would say grades are key, right? By the end of the presentation, Peter and Robert presented their case well and I must say I was intrigued.
Well, this year at the conference for me at least, was different as I had the privilege of delivering a short presentation along with my outstanding colleagues (they didn't ask me to say that in case you were wondering), Dr Michael Gallagher and Myles Blaney on "Expanding the "teacher function": speculative work on virtual assistants (bots) in digital education." We delivered this 30-minute presentation with the aim of getting people to think about the role of bots in education. As with any presentation you can never judge what kind of audience you will get on the day and with this being a hot topic of the moment and even slightly contentious, it was interesting to see how the audience would react to this. I am glad to say that it all went well – apart from the internet not working to demo our epic bots – but it wouldn't be a tech demo without tech issues right? We even had a really fruitful Q&A at the end and no bots were harmed during the process! A win for everyone I think.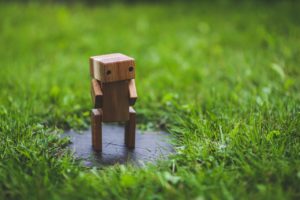 Robot by kaboompics on Pixabay is licensed under CC0
Post presentation and lunch, came the next keynote from Dr Camile Kandiko Howson, Imperial College London, presenting on the values of learning gain data. Learning gain, where do you begin? One of the interesting aspects that Dr Camile touched on is what do you value in higher education? What is valued? An interesting point she posed to the audience. The afternoon flowed into another round of workshops and presentations in which I decided to check in on the presentation by Neil Lent & Daphne Loads on making evaluation meaningful. Following on from the themes of the keynote I felt this one fitted in well with my outcomes for the day. I thought this was very pertinent, especially in an age where we are trying to make education more accessible and affordable.
It was a great privilege to have had the opportunity to present at the conference and impart a little bit of knowledge from the work that I am involved in at the university. An experience I would highly recommend to anyone and hopefully an opportunity that I will be able to participate in again.
Share