Reflecting on youth activists, youth activism, and youth activist groups
Reflecting on youth activists, youth activism, and youth activist groups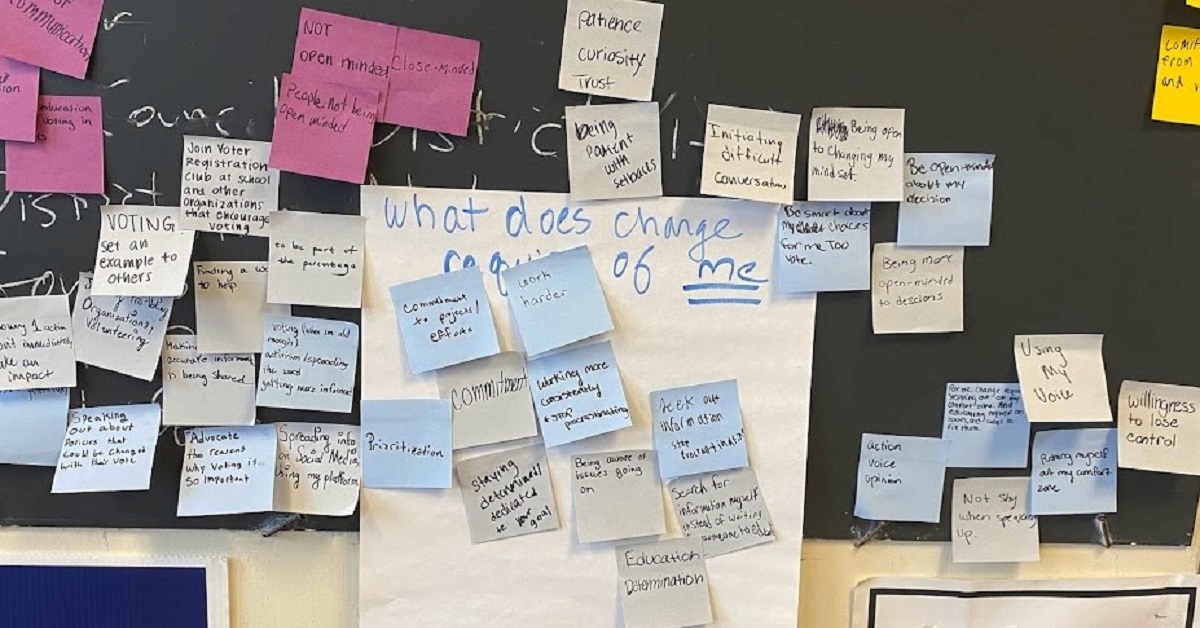 Reading Time:
4
minutes
Children and young people's activism through a case study lens
Author: Laura Weiner, Moray House School of Education and Sport, University of Edinburgh
In my seminar for the Children and Young People Research Hub last year, I shared a snapshot of my PhD research project and some emergent findings around the skills, knowledge and values young people conceptualised as key in an informal civic education organisation case study. The case study site is a nonpartisan, not-for-profit organisation based in an urban American city, which – amongst other projects – engages high school students (approximately ages 14-18) around 'voter activism.'
This seminar provided an opportunity for me to reflect on the wider topic of children and young people's activism; first and foremost: does language like youth activism and referring to youth activist groups have an impact on how we understand young people's activism? Here, I discuss how a research case study may provide some insight to these queries by drawing on data gathered with 21 young people at the organisation, largely over the course of their participation in a summer Out-of-School programme.
The 'youth activist' label
There is debate in the academic literature around whether calling the topic youth activism – and the young people involved, youth activists – is beneficial (Gordon & Taft, 2011). One argument is that the youth modifier perpetuates the idea that young people are not yet activists (as young people have suggested elsewhere; see: Stauffer, 2021)? This question draws on a common critique of child and youth development rhetoric as focusing more on children and young people's future possibilities than their current actions (see: Qvortrup et al., 2009).
In my research, young people shared the issues currently impacting them and their communities, and how being 'voter activists' allowed them to presently take action on these issues. While youth workers did reflect on how young people would continue to use the competencies developed in the space in their future roles, the youth participants discussed what they were currently doing – and the competencies they needed now – to enact change.
Overlaps with youth activism
The academic literature on young people's political engagement reflects the increase of issue-based activism and point to a 'political apathy' – or rather alienation or cynicism – when it comes to traditional markers of political participation like voting (although others have challenged this 'political apathy crisis'; see (O'Toole, 2016). Data collected with the young people in this case study further muddles this picture.
Young people at the site painted a picture of intertwined 'voter activism' (seen as more traditional civic engagement/political participation) and 'issue-based activism,' articulating that effective change around social justice issues was directly linked to voting.
'Activist tools' created by a young participant through participatory workshop focused on activist knowledge; these tools demonstrate the intertwined relationship between 1) direct political participation through voting, 2) a focus on issues like racial justice and community development, and 3) the role of young people in enacting social justice
Young participants were not asked directly if they saw themselves as youth activists – although this may need to be a question asked in my future research – but they evoked language around activism when discussing the competencies developed in this space. They also spoke to a lack of civic education in formal education settings and opportunities for political socialisation within their communities. Aligning with the goals of the case study site, the young people emphasized the necessity of both spheres.
Yesterday it dawned on me that I'm going to vote in the next election. Now I know how to research things. Know what I'm talking about… [I've had] this opportunity to be an activist in less traditional ways.
Activism always seemed abstract. Just joining protests [I] didn't realize and understand the gravity of activism. The gravity and meaning of civic duty.
[I] usually get tongue tied and doesn't know what to say… [I] came into the project in the summer not knowing a single thing about voting. [I] joined because of [my friend]… [I've] gotten better at public speaking and confidence and [have] real knowledge.
Excerpts from young people's feedback (shared by youth worker) at the culmination of the summer programme; young participants shared their experiences developing activist competencies and evoked language around activism and civic engagement.
Takeaways
In this seminar, I presented some of the ways young people understand the competencies they see as fundamental to being/becoming a 'youth voter activist'. Turning to the data collected in my research, it's clear why the literature alone is limited in understanding youth activism and the identity of youth activists in youth activist group contexts. A case study such as the one in this research can provide a concrete way to explore some of these complexities surrounding children and young people's activism.
Bibliography
Christens, B. D., & Kirshner, B. (2011). Taking stock of youth organizing: An interdisciplinary perspective. New Directions for Child and Adolescent Development, 2011(134), 27–41. https://doi.org/10.1002/cd.309
Gordon, H. R., & Taft, J. K. (2011). Rethinking Youth Political Socialization: Teenage Activists Talk Back. Youth & Society, 43(4), 1499–1527. https://doi.org/10.1177/0044118X10386087
Kirshner, B. (2007). Introduction: Youth Activism as a Context for Learning and Development. American Behavioral Scientist, 51(3), 367–379. https://doi.org/10.1177/0002764207306065
Kwon, S. A. (2013). Uncivil Youth: Race, Activism, and Affirmative Governmentality. Duke University Press. https://doi.org/10.1215/9780822399094
O'Toole, T. (2016). Beyond Crisis Narratives: Changing Modes and Repertoires of Political Participation among Young People. In K. P. Kallio, S. Mills, & T. Skelton (Eds.), Politics, Citizenship and Rights. Springer Singapore. https://doi.org/10.1007/978-981-4585-57-6
Qvortrup, Jens., Corsaro, W. A., & Honig, M.-S. (2009). The Palgrave handbook of childhood studies. Palgrave Macmillan.
Stauffer, R. (2021, March 5). "Young Activists" Label Can Be a Burden for Youth Organizers. Teen Vogue. https://www.teenvogue.com/story/young-activists-pressure-youth-label