Are you a Super Listener?
Are you a Super Listener?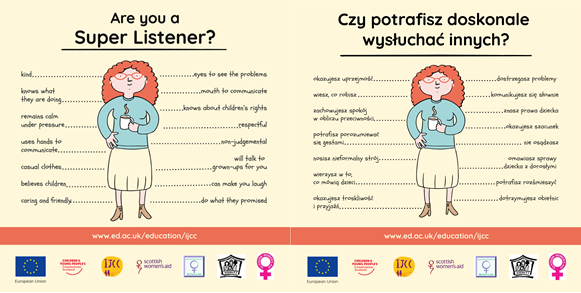 Reading Time:
3
minutes
Improving Justice in Child Contact (IJCC) is a partnership project across five countries (Bulgaria, Cyprus, Portugal, Romania and Scotland). We are aiming to improve children's participation in child contact processes for families affected by domestic abuse.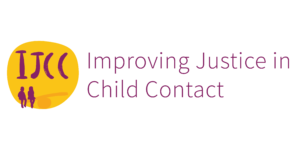 Children have described their experiences of child contact systems as making them feel unsafe, unwell, scared and powerless (Houghton and MacDonald, 2018).
Imagine having to stay with someone who scares you so much your tummy hurts. The whole time you are wishing you were home where you feel safe.
A young person from Everyday Heroes, Houghton and MacDonald, 2018
Mackay (2018) found that the court systems often ignored children who raised concerns about having contact with a non-resident parent. Yello!, the young people who advise the IJCC project, talk about having their views dismissed or even of being called a liar for saying what they feel. What young people tell us they want is for adults to be Super Listeners.
The Super Listener resource was created to help adults make sure that young people feel safe, supported and respected when they are giving their views. It was designed with children and young people as part of Power Up/Power Down. Power Up/Power Down was a participation project for children and young people with experience of domestic abuse, jointly supported by Scottish Women's Aid and the Children and Young People's Commissioner Scotland.
In Power Up/Power Down children were able to rewrite the story of child contact processes with what they wanted to happen. In the children's version, the adults in the Court system behave as Super Listeners and really try to understand what it is like for the children, and what they need in order to feel safe. In the children's version, the Court tells their father that he has to stop behaving abusively and to say sorry. The children are given some contact time with their father – in a way that they feel safe with, and knowing that the Court had made sure that it would check in with them, and listen carefully to their views about how contact was going.
Read the full Power Up/Power Down story
The IJCC partners felt that Super Listener was a key resource that would help organisations and workers better understand, and therefore better support, children's participation in decision-making. As part of the IJCC project, we have translated the Super Listener resource into 8 further European languages for people to use.
We have been telling adults to listen to us for years, when are you going to start?
A young person from Yello!
Super Listener
You can download the Super Listener poster and postcard resources from the following pdf links:
References
Houghton, C. and MacDonald, R. (2018) Everyday Heroes Justice Report.
Mackay, K. (2018) The approach in Scotland to child contact disputes involving allegations of domestic abuse, Journal of Social Welfare and Family Law, 40:4, 477-495.
This blog is published under a Creative Commons Attribution CC BY 4.0. It can be reproduced if attributed to Improving Justice in Child Contact provided it is not used in a misleading or derogatory context.