'Emerging From The Bottom' is Claudia's third short story published in Research Bow and completes her first short story trilogy. Claudia's journey is unique, but we know that many of us struggle with similar experiences, so we hope that sharing these experiences will make us all feel a little less alone and a little more inspired to reach out. If you haven't already read them, have a look at Claudia's first two stories, "The Scottish Newen: A Short Story Of My Journey To Open My Soul" and "The Whirlpool". Otherwise, jump right in and join Claudia on her way up from the bottom. This is a story of change, awakening, and hope.
A timid sun was dancing amid an unpredictable mist. The humidity in the air was moving the trees' branches. From my window, the ancient rocks, splattered with dew, were the perfect expression of the dialogue between the moon and the earth representing their usual, rhythmical, and endless talk.
Like every day, birds announced that it was time to open my eyes. Certainly, I didn't wish to get out of the bed, but I'd come to an agreement with myself. So, I just took off the duvet, stood up and took a big deep breath. Even though I was wrapped in a sort of obscure cloak of fear, a strong hunch arose from my heart.  
Help will come, help is coming, or help is here but I cannot see it. Of course, that encouraging feeling didn't enhance my face, the big bags underneath my eyes, up to my belly, and wrinkles on the face which could not hide my blue mood. I didn't have another choice. It was time, I will do it, I will seek help everywhere, but more importantly, I decided to see the help that was always there in front of my eyes.  
My intuition whispered repeatedly: "Don't worry, after the tragedy starts the comedy, it's fine my dear, you will learn, you will experience compassion, you will laugh, and you will not be alone anymore. An invisible world is always there, just open your eyes, and you will see". –  – Wow! Oh my god, I'm experiencing a psychotic stage, I thought.  
I went to my window once more, I opened it and I took a big deep breath. I was alive, I was breathing, I was listening to the birds, and I saw a butterfly. In the middle of the pandemic, I felt hope. Such a rare thing, but everything was weird at that time. So, it was fine, a kind of new reality. 
The following Wednesday at the same time, I will see the only person apart from my daughter that I was able to meet over the first lockdown. My friend from uni. We will go for a run, jog or walk around Holyrood Park, like we did for the last five or six weeks. She wasn't afraid of being with me outside exercising. Without asking too much, she understood my situation, my blue mood. Her deep empathy and compassion were a relief for me. Our meeting point was the entrance of my neighbourhood. We used to talk about different things, she listened with patience and kindness when I talked about my feelings of disgrace and sorrow. We looked very funny jogging around Holyrood Park. She is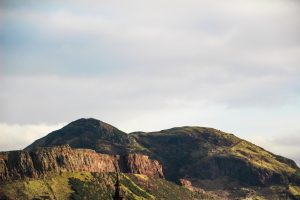 sporty and tall, a very good runner. We started our run at the roundabout near the Scottish parliament. Two metres further, I couldn't run anymore. She waited for me while she was stretching her body to keep herself warm. I was the worst running partner, but she never said anything. My daughter told us that we looked like members of the ring community from the Lord of the Rings film. A female version of the elf and the dwarf. I thought that analogy was fantastic. Just recalling that comparison makes me laugh, even now. Certainly, the most wonderful thing wasn't the Lord of the Rings analogy, even though it's so funny.  The most wonderful thing were our conversations about how we perceive reality, the rhythm, the "I", and where my "I" has gone during this period. We did voice exercises. We laughed at ourselves, we saw birds, flowers and we smelled gorse flowers which made the hill look colourful during spring. She told me very interesting things about flowers and coconut smell in the air. I must say that back then I couldn't smell coconut, but this year I can smell it in the air. Day by day I focus on the rhythm, on myself, on my sensations, on my story, seeking answers.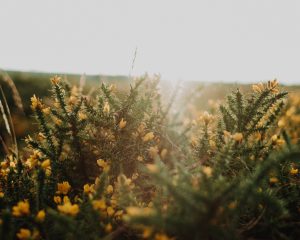 Once I was aware of my blue mood, we started doing other things. Fortunately, we didn't run anymore, we planted a deep friendship instead. I met my friend and rediscovered the forces of nature by observing plants, breathing, or looking for birds. I was enjoying being here for the first time in a long time. 
Being here doesn't mean in Edinburgh, it means breathing, being alive. 
I decided to do as much as I can to be better. So, I overcame my English language difficulties and I called everywhere, asking for help. Indeed, I would say that I know now a bit about the helplines for mental health assistance, from the NHS to the Samaritans charity. Even counselling from the University. The GP also was crucial, at times I was my GP's nightmare. I learned about the UK guidelines for depression, I knew that an online course called "beating the blues" was provided by the surgery. So, if I scored highly on the weekly test, my GP would call me the next day to see if I was okay. 
 I bitterly cried with my friend nearby the Scottish parliament when I realised, I needed to go further, taking conventional medication. My natural and beloved medical remedies weren't enough. She helped me to look for a counsellor. A good friend from Germany sent me remedies, oils and ointments to strengthen my physical body, compresses filled with herbs to sleep better and lavender, aurum and rose cream to calm down my soul.  
With my daughter, we planned a daily routine based on cooking, crafting, walking, sleeping, talking and taking a shower every day. My dad talked to me about my childhood and how much I was loved by them. We prayed together every night for a fortnight. Poor papa, at the end he couldn't lead me towards the Catholic path. I need freedom from any dogmatic institution to understand what is going on, with an open heart. My Chilean colleagues in Edinburgh gave me enough space to breath without having to provide any further explanations. My mom told me funny stories, a kind of magical realism about her daily life. My supervisors at the university gave me their full support, two months of resting, of finding myself again. Yoga was crucial as well. I meditated on Zoom every morning at 6 am, with a candle in the winter, looking for our inner light. Even my daughter bought a couple of enormous ceremonial candles just like for a church or for a funeral. Indeed, I told her: "Thank you darling, I expect to find my inner light as soon as possible. You bought candles for my entire life"- of course, we laughed together.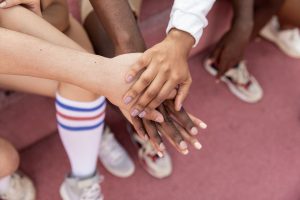 I started to communicate again with four of my 20 cousins in Chile, having Zoom meetings every Saturday night. Without a doubt, I have a really great support team which started with my friend at Holyrood Park, when I could barely speak English. My healing process was completed. It was just a matter of time, rhythm, breathing and will. 
If you are struggling with your mental health right now, here are some places/websites/resources that can be a good starting point:  

Share