This short story was written by Claudia in the context of a series of writing workshops, lead by Janis Mackay, a Scottish writer and storyteller. The learning process of the English language was one of the most challenging tasks for Claudia. Striving to enhance her writing skills, Claudia discovered the fascinating world of writing short stories to express her challenges of studying a PhD in a second language in a healthier way.
My home country is Chile. I love my long and thin country. Chile is full of high mountains, blue oceans, clear skies, and as many different native aborigine cultures as there are different kinds of weather.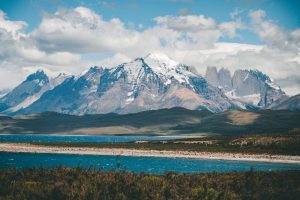 Indeed, you can experience around fourteen types of weather from the mountains to the sea and from the North to the South. All of you can find a similar description of Chile on the internet or in a book. However, I will tell you about my inner encounter with the Newen of the place where I am currently living: the Newen of Scotland.
Within Mapuche culture, the culture of the native people from the South of Chile, Newen is a spirit that provides strength to human beings and nature. The Newen must accept you, so you can live in peace and receive gifts from all living things. Our duty is to respect, protect, and look after the land and nature. The word 'Mapuche' means 'people from the ground', which implies a close relationship between subject and object. In other words, the Mapuche honour trees, rivers, animals or human beings because we all come from the same land.
As most Chilean people, I am a mix between Mapuche and European, and I grew up listening to stories from my great grandmother about the power of Newen and Mapuches as her ancestors. Even though I am respectful of my ancient culture, I could not feel their power and force until recently. Actually, for me, they were old stories, told by my great grand granny, until I arrived here: Scotland.
Despite spending hours, days and months studying the English language, I struggled to speak fluently and adequately enough to carry out my studies. I felt so stressed and depressed, as if my soul was falling down into a dark night. I was utterly lost, and I was sure that the spiritual world had abandoned me. Lots of thoughts came to me at that time. I was desperately asking why life had brought me here to be in such a bad state.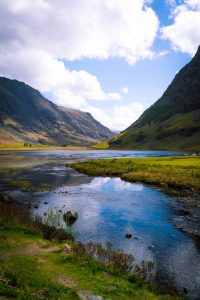 One day, as usual, I talked with one of my cousins, who is also from Chile. Suddenly, she began to speak to me about Mapuches and how they still fight to recover their land, which was stolen by the Chilean government years ago. We talked about the inner force that helps us to do extraordinary things. The Newen and their meaning for Mapuche people. My cousin told me: "Remember the Newen, Claudia, the protector of people and places". Then, she continued: "I think you should ask the Scottish Newen to accept you as your friend and partner, I am sure that you will learn and understand the English language better". I was doubtful because I was not sure about the result. So, I thought: mmm ok, I will try. Incredibly, that week I dreamed of my great grandmother, which was a sign for me.
I started to talk with the local Newen, because according to the Mapuche culture, each place has its own Newen. So, I prayed every day for their help, protection and partnership. I went for a walk every day, and I followed a swan family that live in a wee loch near my home.
I listed to birds, met amazing people, collected yarrow to heal my soul, and I got watering eyes listening to a bagpipe. Finally, I am here, attempting to write a short story. I must say that I am still praying every day with an open heart to learn more about Edinburgh and its people, a place that has become my home. At the end of my journey, I will come back to my beloved Chile with a new friend: the Scottish Newen.

Share