This short story is a sequel to Claudia's first story "The Scottish Newen: A Short Story Of My Journey To Open My Soul". With this second short story, Claudia continues her lyrical journey and shares some advice on how to deal with mental health issues during a PhD. All of Claudia's short stories were written in the framework of a writing workshop which helped her express some of her struggles with doing a PhD in a second language far away from home.
Every day seemed to be more difficult until that Friday when I couldn't think any more. I was sleeping two hours and barely eating one or two meals per day.
I felt like I was outside of my body, in a massive whirlpool of hopelessness, darkness and fear. My brain and fingers were disconnected, even to write a short message was an enormous effort. I just wanted to disappear, but I didn't know where or when I wished to wake up. People told me that, under my circumstances, feeling like this was normal. Oh yeah, my circumstances, my disgrace, paying for coming here and doing something different. I was not clever anymore, and everything was confusing. How had I embarked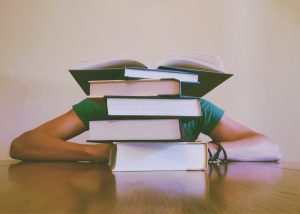 on this journey? I couldn't see my ticket to return to my old life, full of energy, cheerful and feeling secure. I was ashamed. How could I explain to my daughter, my family and my colleagues that I couldn't improve my English enough, that I was lost in a sea of articles and books without finding a thread, to discover what I really wanted to do in my research.
My supervisors at the university said that I must become a writer at the end of the PhD which felt like a cold-water bucket spilling over my head. An ice cube ran from my neck to the spine, along the hips to my feet. Freezing, I thought:
I will never write anything in English.
I was thinking that any justification would make everything worse. I felt the disgrace in every single bone. Others told me: "Claudia, you are going into the Hades realm, which is good if you want to expand the borders of your knowledge". I felt terrible. I didn't want to hear anything anymore… just disappear. Indeed, in my view, the problem was me and not my circumstances. My ancestors, the spiritual world, or whatever had brought me here to pass through this miserable kind of darkness. It was worse than any symbolic initiation in any ancient secret society because ceremonies or rituals are performances full of symbols to recall ideas… but certainly, my journey to the darkness was not a performance to access any knowledge or to join a group. It was a genuine inner battle to find, literally, the light in the dark night of my soul.
That Friday was the most difficult one. Even recalling it now, I feel my mouth dry out and a lousy taste. I talked to a friend from Chile, a wise woman, and she suggested a study interruption. I thought it was impossible, but she started to tell me many stories of people that needed this sort of rest to reset and recover their minds. For me, it was not only my mind; it was also my soul that was paralysed by a sensation which I can summarise in one word: fear. Fear, fear of everything.
My daughter stared at me, standing at the door. She couldn't recognise me. Sometimes to comfort her and me and my family… I said, "don't worry, after the tragedy starts the comedy".  A funny statement, I would say. In some way this was a powerful way to say that I will recover from this situation. I wanted to disappear all the time, but I couldn't pass on that sadness to my daughter. I simply couldn't do it.
That Friday, my friend from Chile explained to me the procedure to request a study interruption without losing my scholarship from the Chilean government and my position at my home university while I left the PhD. I just needed to prove that I was ill. That terrible word again… an illness of the mind, a mental illness that meant for me to acknowledge my vulnerability, asking for help to save myself. That night was key. I decided to look for help everywhere. I went to the window to smoke a cigarette, and I soberly talked with the night, the moon, the stars, my ancestors, and my devastated soul. It was such a relief when I announced to myself:
Oh, dear Claudia, it's okay. Life has been hard for you in the last time. You are a bit ill; things are not working very well in all spheres of your life but never mind, you will find the right people, the right moment and you will unveil the magic behind your suffering and your torture will become your blessing and strength for you and others. Remember why you chose this path and be a jellyfish in the sea, moving without resistance.
If you are struggling with your mental health right now, here are some places/websites/resources that can be a good starting point:  

Share