Here I am, working my way through the 2nd year of the PhD studies at the scary time where we might be transitioning from face masks to gas masks, in addition to the more usual PhD stressors of collecting data, tutoring and writing ethics applications (apologies, making inappropriate jokes is how I deal with stress… which is counterproductive, as responses to inappropriate jokes inevitably causes more stress, which in turn leads to more inappropriate jokes. It's a vicious and occasionally humorous cycle). (n.b. the irony of making a dark joke in association with an ethics application is not lost on me. I am a bad person, and I am trying to get better).  
Before getting completely overwhelmed by stressful life and stressful jokes, it's probably a good time to reflect on how the journey through this PhD is going so far. When I last wrote a blog post for Research Bow it was at a time when Covid Restrictions were being tightened again and I was busy trying to draw the associations between the hours put into training during my athletic career and the hours I was putting into reading during my newly emerging academic career.  It was also becoming apparent that I really needed to step up my game in the work I was producing. 
It was a strange time: It had been a year and a half since finishing my undergraduate degree and I had spent most of that time either in an existential-post-degree/sport/breakup-exile or in Covid lockdown… and occasionally both. Which can only be described as a rather unfortunate Venn diagram cross section.
Despite all the weirdness and challenges associated with that time, I still somehow found the unwarranted self-confidence/arrogance to think I was doing an amazing job and that I could "always improve the work in a later draft" – Looking back, I've labelled this as my "Jez from Peep Show-phase", except I was trying to produce academic work as opposed to electronic music. It was outrageous, and the virus was/is contagious (bonus points for those of you who spotted and groaned at the reference). The phase had many limitations, but it had the benefit of taking away some of the pressures of starting a PhD in new city during a pandemic. Did it frustrate and worry my supervisors? Probably, almost definitely, maybe, yes. Did it help me cope and find a way to enjoy the first year? Without a doubt, yes.  
In the end, I realised that the "Jez" phase needed to come to an end. So, I started to work on improving my work. One of the big steps, was figuring out that I needed to figure out what needed to be figured out… I realise that may be a little disorientating to read, so just imagine what it was like to realise that realisation.  This process was aided through participating in tutoring, marking and presenting at the PGR conference. Tutoring in the Conceptual and Theoretical Psychology module forced me to apply additional structure to my workload and allowed me to address the limitations in my writing by exploring and learning with my students on how to better critique and evaluate papers. Marking taught me how to structure an argument in a clear and concise manner. But perhaps more importantly, it taught much needed empathy to all the dedicated markers who have endured my writing (this extends to the poor editors and readers of this blog post). Whilst participating in the PGR conference taught me how to present my work in a logical, flowing narrative. Collectively, I was able to apply the experience gained from these opportunities to develop my work from "worrying" to "surprisingly good!". (These are entirely warranted and justified quotes: If you would have seen the difference in my work between the start of the PhD and the End of year review, you would likely say the same). For any first year PhD students currently reading through this blog post: Jump on any opportunity that may benefit your career, you'll be surprised in how it improves your work.
Sometimes literally if you find yourself realising that it helped you realise something that needed realising (it's a very understated surprise, but a surprise nonetheless).  
By now, I am in the exciting phase of collecting survey data, running cheeky preliminary analyses, applying the finishing touches to upcoming research protocols, submitting conference applications, and getting to the end of tutoring for this academic year. It feels like I'm surfing a giant wave; it's thrilling, but I'm at the edge off falling into the water. Kind of like a less dramatic version of what I used to do for fun before academia – as seen in this picture: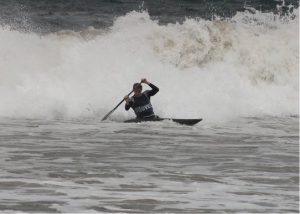 Thankfully the support network of family, friends and the HiSS community gives me confidence that I can metaphorically swim to safety if that happens. It's a scary time, but I am fortunate to have what I need in Edinburgh to make it a manageable time.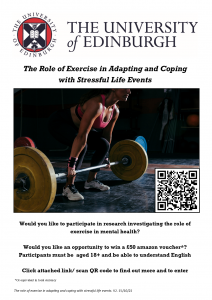 If you are interested in participating in my research, you still have time, then please visit the link featured below this paragraph. The survey is active until the end of April. The research is investigating how exercise influences the risk and protective factors associated with mental health, and how this compares between athletes, retired athletes, and the public. All participants can enter a prize draw at the end of the survey for the chance of winning a £50 amazon voucher.  
https://edinburgh.eu.qualtrics.com/survey 
If you would like to donate to the help those affected by War in Ukraine, please consider visiting the links below. They include a link to the red cross and for a fund to support the Ukrainian Canoe federation athletes. I have been fortunate enough to meet some of these affected athletes during my competing days and I cannot imagine how horrible it must be to be in their shoes right now. 
https://donate.redcross.org.uk/appeal/ukraine-crisis-appeal  
https://www.canoeicf.com/support-ukrainian-canoe-federations-community  
https://www.savethechildren.org.uk/where-we-work/europe/ukraine  

Share