The third of our "pop-up" training sessions is in response to a request that came after the resilience session. I'm keen to take more requests so please let me know by email (if in UoE) or through twitter (externally) if there's something you'd like me to try to cover. I'm also looking for co-presenters if my expertise in a requested topic is a bit thin… volunteers and suggestions very welcome.
The recording of the session is available from Media Hopper and should be openly available to all – let me know if not.
Being Productive in Unproductive Circumstances 
And here are the slides in case that's easier for you to take in the details
There were a couple of templates in the session which I've turned into (very basic and not very pretty) downloads. If anyone wants to beautify them, please do and send them back…
A template to help you work out the new Shape of Your  Day 
A template to do a rough and ready risk analysis to create a Risk Register
A review template so you can think objectively about whether you can match your circumstances to the expectations for productivity you feel – try to make a habit of doing a quick Review of your day
If this review makes it clear that you can't work in the way being expected, then it might be helpful to think about how you might have a difficult conversation with someone (I seriously hope it won't be difficult – we should all be able to find a bit of empathy at the moment). I'd recommend:
We Have to Talk – A Step-By-Step Checklist for Difficult Conversations  by Judy Ringer.
I hope that these help – it would be great to share additional tips here, so please share any advice or suggestions that are helping you at the moment.
And if all else fails, perhaps a reminder that getting your workspace ready to work productively and comfortably in IS WORK!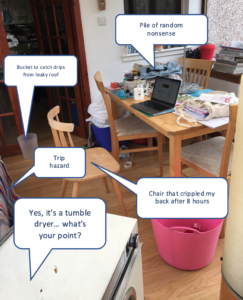 Sara x
This training was developed to support our research staff including our Train@Ed cohort of fellows. Train@Ed has received funding from the European Union's Horizon 2020 research and innovation programme under the Marie Skłodowska‐Curie grant agreement No. 801215