Brunt hill lurks behind Doon Hill, and is another example of a classic lump where you can cycle almost all the way to the summit. The true summit is actually in a fenced-off area with "keep out" notices, but the view is worth the effort of riding to a point as close to the summit as you are allowed to go.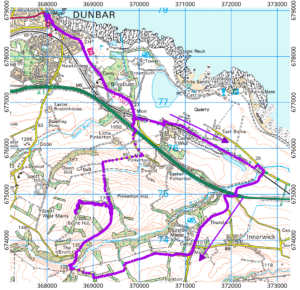 Apart from the short detour to the summit, the unpaved track from the Brunt to Doon Hill also allows some extra circular cycle routes from Dunbar, as long as your bike doesn't mind the surface.
The section of the route past the cement works is part of a national cycle route (green dots on the OS map) and is good tarmac apart from a short section at the west end. The national cycle route leaves the cement works path to join an abandoned section of the A1; shortly after this I turned onto a little-used section of country lane which is no longer accessible to motor traffic. This lane appears at first to be a dead-end, even for bikes, as it stops at a hedge at the side of the current A1. Fortunately, there is a gate through the hedge, and it is straightforward to cross the A1 on foot at this point. The road climbs steadily for a good while before dropping into Woodhall Dean and then ascending very steeply to the Brunt. At this point I left the tarmac and followed a grass-and-gravel track up the hill. Just as the track levels off it forks;  I took the left fork to get to the summit. The view is hidden by a strip of woodland until you reach the summit area; from here you can suddenly see out. The view is similar to that from Doon Hill; the distant view is more extensive but the view of the nearby coast and the town of Dunbar is obscured by Doon Hill's green slopes.
Like Doon Hill, the bedrock of Brunt Hill is the Great Conglomerate formation. A small quarry near the summit exposes the conglomerate.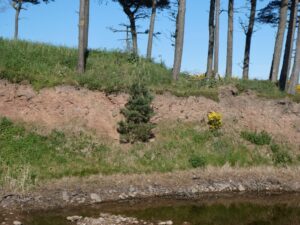 Returning to the fork in the track, I headed north, back towards Dunbar. It was at this point that I decided I had done the loop in the better direction: the section from Brunt Hill to Doon Hill is a very steep, bumpy descent. I was glad that my brakes worked and that I was not travelling uphill.